Cargo spacecraft Tianzhou 1 docks with lab as 5 months of tests begin
By Zhao Lei | China Daily | Updated: 2017-04-24 07:42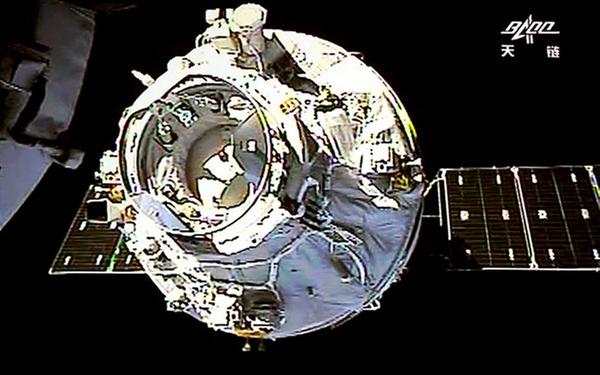 A screenshot shows the Tianzhou 1 docking with the Tiangong II space laboratory on Saturday.Wang Sijiang / Xinhua
China's first cargo spacecraft, the Tianzhou 1, has docked with the country's Tiangong II space laboratory and will stay in space about five months to conduct tests and experiments.
The docking took place on Saturday afternoon about 380 kilometers above the Earth, according to the China Manned Space Agency.
Tianzhou 1, the country's largest and heaviest spacecraft, was lifted atop a Long March 7 rocket on Thursday night at the Wenchang Space Launch Center in Hainan province. The Tiangong II has been in space since mid-September and carried two Chinese astronauts from mid-October to mid-November. It is now unmanned.
The two spacecraft will stay in combined orbit for about two months, during which the Tianzhou 1 will resupply fuel to Tiangong II and conduct scientific experiments, the agency said.
After the two months, the cargo spacecraft will undock and re-dock with the space lab. It will then undock again and start a three-month independent flight before a third docking.
The cargo craft will inject fuel into Tiangong II during the second and third dockings. After the third docking, Tianzhou 1 will depart from Tiangong II and will be directed by ground control to fall back to Earth.
If the mission is successful, China will become the third nation to use its own technology to conduct in-orbit refueling, joining Russia and the United States. It is part of China's plan to have a manned space station in orbit by about 2022.
The reason for repeating the docking and undocking process is that scientists want to test the technology developed to enable a spacecraft to dock with a space station from different directions.
According to designers, after the first undocking from Tiangong II, the cargo vessel will fly to the opposite side of Tiangong II and dock with different section.
Xu Xiaoping, deputy chief designer of the Tianzhou 1 at the China Academy of Space Technology, said China's space station will have multiple adapters to dock with spacecraft from various directions so Tianzhou 1's dockings will help scientists collect experience and data.
Zhang Qiang, another deputy chief designer of the cargo ship, said Tianzhou 1 will make sophisticated, automated maneuvers circling Tiangong II before the second docking. He said in the third docking, Tianzhou 1 will use fast-docking technology, which will take six hours for the entire process. By comparison, a typical docking will take two days.
In the future, the Tianzhou series will be tasked with bringing supplies of fuel and other necessities to China's manned space station, for which construction will start around 2018.
The station will consist of three parts - a core module attached to two space labs, each weighing about 20 tons - and will operate for at least 10 years, according to the manned space agency.
Developed by the China Academy of Space Technology, Tianzhou 1 is 10.6 meters long and has a diameter of 3.35 meters. Its maximum takeoff weight is 13.5 metric tons, enabling it to carry up to 6.5 tons of supplies.