President calls for rejuvenation
By AN BAIJIE | China Daily | Updated: 2017-09-26 05:50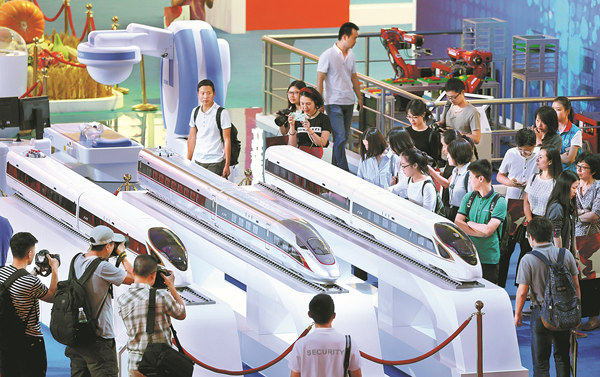 An exhibition showcasingthe country's progress in the past five years under the leadership of the CPC is held at the Beijing Exhibition Hall, where it started on Monday. On display are models of the new Fuxing bullet train. FENG YONGBIN / CHINA DAILY
Appeal comes as exhibition showcases progress in the past five years
President Xi Jinping called on Monday on the whole country to raise up spirits and make persistent efforts to achieve the rejuvenation of the Chinese nation as the Communist Party of China is preparing for its 19th National Congress coming up in about three weeks.
Xi, also general secretary of the Communist Party of China Central Committee, made the remark while visiting an exhibition at the Beijing Exhibition Hall. It is being held to showcase the country's progress in the past five years under the leadership of the CPC with Xi as the core.
Since the Party's 18th National Congress held in November 2012, the CPC has led the people of the country to achieve long-term development of socialism with Chinese characteristics, improve the people's livelihood, and produce historic reform of the Party and the country, Xi said.
The past five years is an extraordinary period in the developmental progress of the Party and the country, he added.
The exhibition, a precursor to the 19th National Congress of the CPC scheduled on Oct 18, has 10 sectors with different themes including boosting the rule of law, deepening reform, protecting the environment and building a strong military.
Xi urged wide publicity for the developmental practices, achievements and experiences of the Party and government in the past five years, as well as encouragement for the people to boost confidence toward the path, theory, system and culture of socialism with Chinese characteristics, and persistent efforts for the rejuvenation of the country.
The exhibition was visited by the seven members of the Standing Committee of the Political Bureau of the CPC Central Committee. A number of senior vice-national level officials also visited the exhibition on Monday.
The exhibition uses the theme of the spirit of Xi's important speeches and the CPC's new theories, thoughts and strategies in the governance of China.
With multimedia measures including videos, data, photos and models of machines, the exhibition shows the great achievements of the country's reform, the extraordinary wisdom and excellent capability of the CPC's governance, the people's sense of gain and happiness, and the whole society's preparation for the Party's 19th National Congress.
In November 2012, Xi put forward the notion of the Chinese Dream — achieving the great rejuvenation of the Chinese nation — for the first time when he visited an exhibition with other newly elected top leaders of the Party.
anbaijie@chinadaily.com.cn