China-Russia economic ties enhanced by trade and big projects
chinadaily.com.cn | Updated: 2017-11-02 18:32
Editor's Note:
Russian Prime Minister Dmitry Medvedev wrapped up his three-day China trip on Nov 2 with nearly 20 deals in investment, energy and space exploration and agreed with Premier Li to advance pragmatic cooperation between the two countries.
With current Sino-Russian relations in the best period of history, Medvedev said Russia is willing to enhance traditional cooperation with China in areas such as energy, infrastructure construction and aviation, and to expand to new areas including e-commerce and financial investment.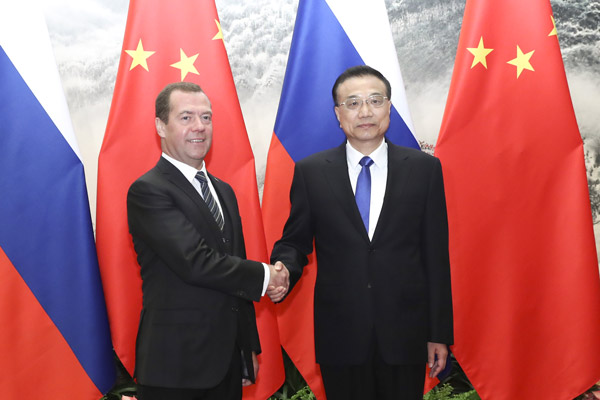 Premier Li Keqiang and Russian Prime Minister Dmitry Medvedev shake hands before the 22nd China-Russia Prime Ministers' Regular Meeting at the Great Hall of the People in Beijing, on Nov 1, 2017. [Photo/Xinhua]
Let's look back on some highlights of the China-Russia economic ties.