The world on two wheels
By Xu Lin | China Daily | Updated: 2018-08-21 10:33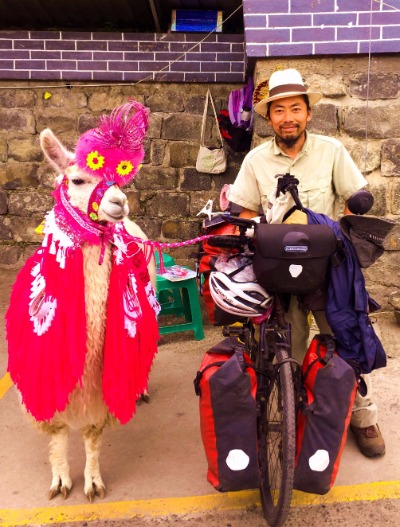 "Many foreigners I've met believe the stereotype that all Chinese men know kung fu, especially when they see I know how to use nunchucks," he says.
"Actually, I only learned last year for self-defense against robbery."
He has lost about 15 mobile phones, most of which were stolen. He was robbed several times.
One man suddenly hit him on the back of his head with a stick. Fortunately, he only received a minor wound.
"You have to be low-key," he says.
"You shouldn't show that you're well-off or display gadgets like cameras. Don't go into alleys alone. Don't fall for common tricks."
He has tried different methods to scrape together enough money for his trips.
Zhu initially bought local specialties like carvings, paintings and coffee to resell.
He later started to write and shoot videos for magazines and online media.
He has only spent about 80,000 yuan ($11,620) in total on his trips, not including cameras, he says.
Cycling, camping and cooking are cheap or free.
"It's cheaper than being a backpacker, who needs to pay accommodation and transport. I'd indulge myself with a good meal as a reward when I arrived in a city," he says.
"You don't need first-class equipment. The cyclist is what matters. I only use what's affordable and practical."
He cycled through seven countries from Shanghai to Nepal and India with a 900 yuan secondhand bike.
Zhu quit his job at a Shanghai trading company to go cycling at age 24.
"I realized that I'd lived a quarter of my life if I live to be 100," he recalls.
"I didn't want to fritter away any more time. I decided to realize my dreams while I was still young."
He recalls that when he first learned about geography in school, he thought: "Why couldn't I cycle the world on my favorite bike?"
His parents opposed his decision to go cycling around the world.
They thought he was dillydallying while he should be working. And they worried about his safety.
His persistence over the years won their tacit consent.
"I felt like an untamed wild horse on my first trip," he says.
"I expanded my horizons so much. The world is so wonderful. I want to explore it more and learn to cycle as far as I'm able."
Yu Yang, 31, who biked with Zhu from Argentina to Brazil during the 2016 Rio Olympics, says: "He has found a lifestyle that suits him. He lives every day in a worthwhile way. He's responsible, disciplined and generous. He doesn't want to inconvenience others."
His 31-year-old cyclist friend, nicknamed "Yoyo", says: "What he's doing is so cool! He's courageous. He chooses the life he wants."
Zhu says the journeys have taught him there is perhaps at least one reason to settle down.
"Cycling is a part of my life but not all of it. Many friends ask if I'll ever stop. I think I will, someday, when destiny brings me the girl of my dreams."