Ice, snow hot commodities in Jilin
By Song Mengxing and Han Junhong | China Daily | Updated: 2019-04-26 08:05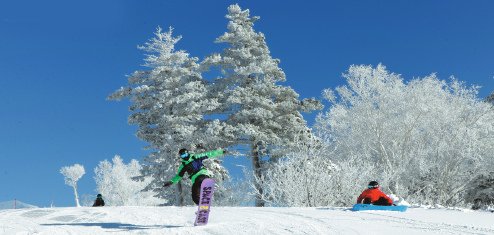 Officials plan to build world-class winter sports tourism destination.
The city of Jilin in Northeast China is going to great lengths to develop its ice and snow industry, which has the most solid foundation and the biggest potential of all the city's advantaged sectors, local officials said.
They said Jilin wants to become a world-class ice-snow tourism destination known for the brand "capital of rime (frost), skiing paradise".
During its 150-day snow season, the city in Jilin province received more than 25.9 million visits; its tourism revenue in the period surpassed 44 billion yuan ($6.56 billion).
Because of the seasonal resources, the city has carved out a new path for high-quality development as its focus shifted from the chemical industry to the ice-snow sector.
Wang Tingkai, the city's Party chief, said: "We plan to build Jilin into a city that has strength in winter sports, is known for ice-snow tourism and develops the ice-snow industry well."
Jilin is located in the golden icesnow latitude zone along with the European Alps and the Rocky Mountains in North America. The total trail area of its 12 ski resorts exceeds 3.56 million square meters and the total trail length is nearly 100 kilometers.
The Qingshan ski resort, predecessor of Lake Songhua Resort, ranks the first nationally in terms of the trail area. The Beidahu Ski Resort has hosted all the snow competitions at the sixth Asian Winter Games and three sessions of National Winter Games and boasts the conditions for holding all snow competitions of Olympic Winter Games and related world championships.