5G network construction gathers speed
By Ma Si | China Daily | Updated: 2020-06-10 11:04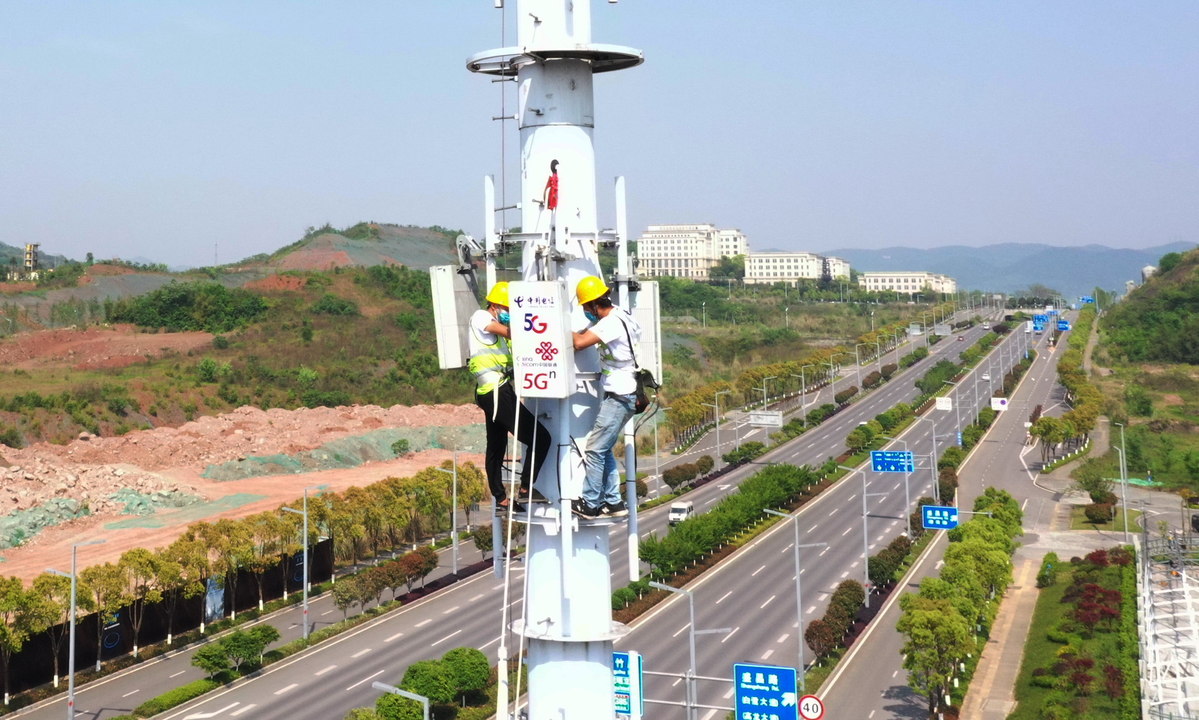 Over 10,000 new base stations being built every week; mobile subscribers to exceed 150m by year end
China is forecast to have more than 150 million 5G mobile subscribers by the end of this year as the nation's efforts to expedite construction of new infrastructure are expected to help fuel economic growth, experts and company executives said.
Liu Duo, a deputy to the 13th National People's Congress, said despite the impact of the COVID-19 pandemic, Chinese telecom carriers are working hard to accelerate the rollout of 5G.
"5G networks include two parts, namely core networks and base stations. Chinese telecom carriers are aiming to upgrade their 5G core networks into stand-alone architecture by the end of this year," said Liu, who is also head of the China Academy of Information and Communications Technology, a government think tank.
By then, stand-alone 5G networks, which function better than non-stand-alone networks, will lay down a sound foundation for wider application of 5G in a variety of industries, Liu said. Non-standalone networks differ from standalone as the former one still rely on existing 4G infrastructure to realize some functions.
Currently, more than 10,000 new 5G base stations are being built in China every week. The rapid rollout schedule came after over 200,000 5G base stations had already become operational in the nation as of mid-May, according to the Ministry of Industry and Information Technology.
In April alone, more than 7 million mobile users subscribed to telecom carriers' 5G data package plans. The increase brought the total number of China's 5G mobile subscribers to more than 36 million by the end of April, said Miao Wei, minister of industry and information technology.
Liu said China's telecom carriers will invest 180 billion yuan ($25.2 billion) into the construction of 5G networks this year, which will motivate companies in the telecom industry chain to invest more than 520 billion yuan into the superfast wireless technology.
"About 20 percent of 5G applications will be consumer-oriented, and 80 percent of its commercial potential lies in its use in traditional sectors. As a result, the combination of 5G and the industrial internet will be of greater importance to the nation's push for large-scale industrial upgrade," Liu said.
Currently, the industrial internet is being increasingly used in manufacturing, healthcare, energy, smart ports and other sectors. "Manufacturing has seen the most application scenarios, including using the technology to automatically collect industrial information and conduct remote control operations, video surveillance and product quality testing," Liu said.
Yang Jie, chairman of China Mobile, said 5G will play a significant role in driving economic growth and social development, and he called for more favorable policies to help telecom carriers lower the cost of building 5G stations.
"The cost of each 5G base station is two to three times that of one 4G base station. Also, more 5G stations are needed to cover the same area as 4G does," Yang said.