Azerbaijan celebrates its past and present for world to see
By Ren Qi in Baku, Azerbaijan | China Daily | Updated: 2020-06-25 11:35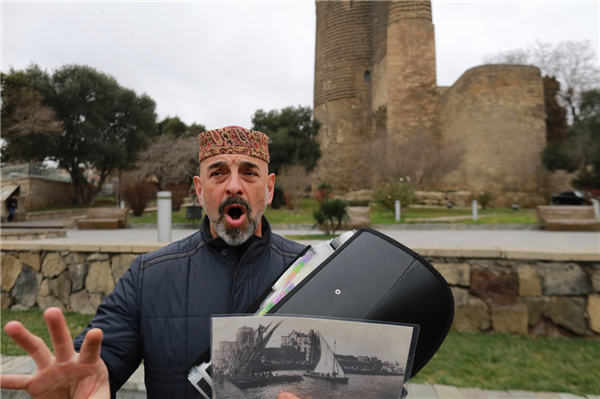 Among all these cultural sites, the Azerbaijan National Carpet Museum is a must-go place for its uniqueness to foreign tourists. The museum displays Azerbaijani carpets and rug items of various weaving techniques and materials from various period.
Established in 1967, the museum moved from the Juma Mosque to the current place, a modern building near the Caspian coast in 2014, and has become a research, training, cultural and educational center where many events, such as exhibitions, international symposiums, and conferences, are held.
The structure of the building looks like a rolled carpet. Designed by Austrian architect Franz Janz, it took over six years to construct.
Walking along the streets in Baku would be a unique experience mixing the ultra-modern as well as the very-old, as the city is collided by the country's Turkish, Russian, Persian and European identities on every street.
Even in its calm moments, Baku will find ways to confuse you. For instance, as you stroll along its promenade on the shores of the Caspian Sea, you are actually 28 meters below sea level. The city is the lowest lying national capital in the world and also the largest city in the world located below sea level.
The Old City, or Icheri Sheher, is a maze of narrow sandstone streets of Baku's oldest and most mellow quarter.
From the 12th century, this place was the center of the Shirvanshah dynasty, which ruled over what is now Azerbaijan until 1539.
During the period of ancient Silk Road, the Old City was one of the main sites on the route between China and the Europe. It witnessed the prosperity and sinking of the ancient Silk Road.
Today about 3,000 people still live within these stone walls and work in the art galleries, cafes and bathhouses. These Turkish-style hammams (bathing establishment) open from very early in the morning until very late at night, with separate opening hours for men and women.