Azerbaijan celebrates its past and present for world to see
By Ren Qi in Baku, Azerbaijan | China Daily | Updated: 2020-06-25 11:35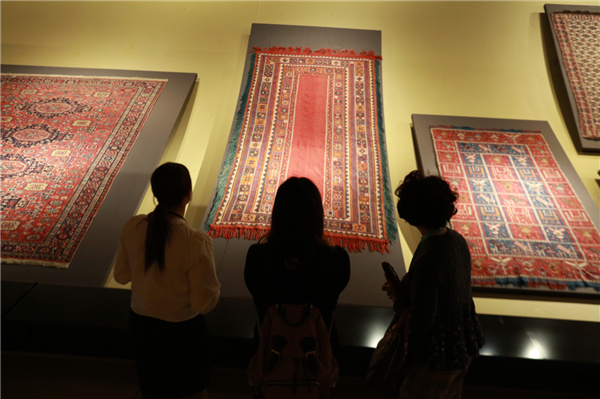 The country is still astoundingly wealthy-the annual Formula 1 Azerbaijan Grand Prix isn't the only time of year when the streets are filled with expensive sports cars-and Baku is beginning to go mainstream as well.
At the foot of the Caucasus mountains lies an escape from the hustle and bustle: a wooden chalet called the Palace of Shaki Khans.
Gorgeous but tiny, it is another must-see place in Shaki, an ancient Caucasus city 240 kilometers from Baku in the Northeastern Azerbaijan.
The palace, which is also a UNESCO-listed site, was built in 1797 as a summer residence of the Shaki Khans, one of the most powerful Caucasian khanates who established Afsharid Iran.
Perched high in the mountains, the summer palace is painstakingly symmetrical and more cosmopolitan than one might think for a mountain refuge. French stained glass, Russian wood, Ottoman ceramics, and Iranian mirrorwork decorate all of the facets.
Measuring 32 meters by 8.5 meters on the exterior, the summer residence is a two-story masonry structure elongated on the north-south axis and covered by a wooden hipped roof with long eaves.
The layout of both floors is identical-three rectangular rooms are placed in a row, separated by narrow, south-facing corridors that provide access to the rooms. The floors are accessed separately to accommodate their public and private functions.
One can easily imagine the early 1800s when the Shaki princes sat in its now-quiet halls, speaking of their grandeur. Those same princes spent their nights fearing what would happen when the world's warlords would finally discover their corner of the mountains.
Azeri is the official language of the Azerbaijan, and Russian is spoken widely here. However, you will not find it hard to communicate with locals in English when traveling because the English education is popularized in the country after its independence from the former Soviet Union in 1991.
If you want to start your travel in Azerbaijan, you will arrive at Baku Heydar Aliyev International Airport, one of the six main airports of the country.
In the city of Baku, you can see around by taxi, buses, metro or other public transportations. But if you want to make a trip to Shaki or other cities, renting a car or booking a chartered car with an English-speaking guide may be a good choice.