More than books
By Zhang Kun | China Daily | Updated: 2021-01-08 07:38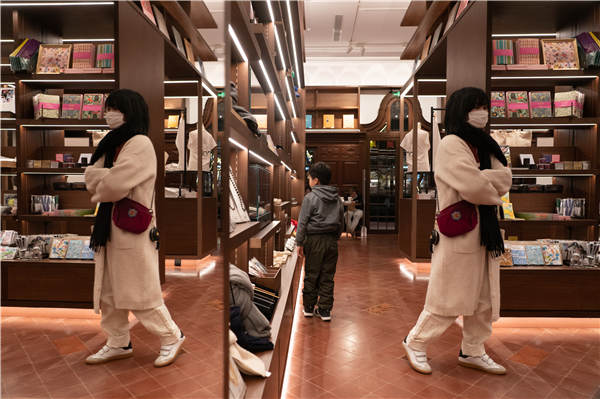 Bookworms in Shanghai have much to celebrate after a challenging 2020, with three prominent brands opening new lifestyle bookstores in December, Zhang Kun reports.
A trio of new lifestyle bookstores opened in Shanghai during the Christmas and New Year holidays, demonstrating that the brick-and-mortar business model is still very much relevant to readers in this digital age.
The first to open amid the festivities was the largest bookstore chain in Japan, Tsutaya Bookstore, which made its Shanghai debut in Columbia Circle in Changning district.
Columbia Circle used to be a community center for Americans in Shanghai during the early 1900s. The bookstore is situated within Columbia Country Club, a historical building within Columbia Circle.
For decades, the building was used as the library of the Shanghai Institute of Biological Products. In the 2000s, the institute moved out of the city center, and the compound was taken over in 2018 and refurbished by Vanke Real Estate, a leading property developer in China.
Zhang Hai, CEO of Shanghai Region Headquarters of China Vanke, said during the bookstore's opening: "The best protection for a historical building is to make good use of it. We hope to carry on the cultural heritage of the area and create a vibrant community and creative hub shared by residents and young career makers."
The refurbishment project sought to retain the Baroque-style architecture of the Columbia Country Club which was designed by Elliott Hazzard (1870-1943). The fireplace and eight Corinthian columns have been left untouched, with new glass walls added for protection.
"We hope to create a cultural attraction for people who love design, architecture and art," says Hu Bing, who oversaw the refurbishment of the Tsutaya Bookstore project in Shanghai."Forty percent of the books are imported, the majority of which are in China for the first time."
Measuring 2,000 square meters, Tsutaya Bookstore brands itself as more than just a retailer of books but also a lifestyle center featuring designer items, fine handicrafts, a cafe and a bar area that stays open until midnight, as well as concierge service that "provides lifestyle solutions".