PE ruling set to help children fight the flab
By Zou Shuo and Li Yingqing | China Daily | Updated: 2021-01-13 09:14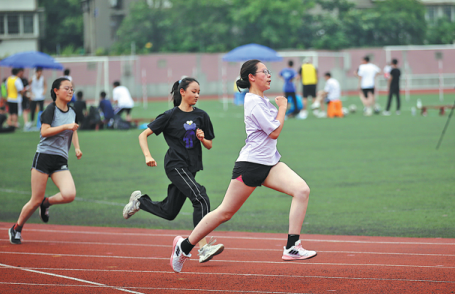 Rising rates
The myopia rate among primary and secondary school students rose by 11.4 percentage points to 70.6 percent in the first half of last year, as children spent more time studying online, the ministry said.
A ministry survey across nine provinces found that the myopia rate among primary school students had risen to 61.6 percent, with the figure reaching 80.3 percent among middle school students. Meanwhile, the rate for high school students had soared to 89.3 percent, it said.
Obesity is also a growing concern.
A 2018 ministry survey of 200,000 fourth and eighth grade students found that obesity rates had risen among those groups.
About 9.7 percent of eighth graders were obese in 2018, a rise of 2.2 percentage points from 2015, while the rate for fourth graders was 8.8 percent, up 1.9 percentage points from 2015, the survey said.
Yunnan province has taken the lead in tackling the issue. In last year's fall semester, it raised the total PE score from 50 points to 100 for the zhongkao.
It was the first time any provincial-level region had given PE and the three major subjects-Chinese, mathematics and English-equal importance in the exam.
Guangzhou, Guangdong province, has also decided to increase the weighting given to PE in the zhongkao, and will raise the score from 60 points to 70 from this year.
To cope with the growing importance of PE, parents have resorted to more extracurricular training courses to ensure their children are not left behind by achieving a low score or even failing PE tests.
Zhao Fei, mother of a third grader in Beijing, has been signing her son up for PE cram courses since he was in kindergarten. It began with courses for basic fitness training and now the 9-year-old takes a two-hour judo class twice a week.
Apart from making the boy healthier, Zhao has another goal in mind-passing PE exams, she said.
Her son's primary school tests students in PE at the end of each term, and although the results will not have much influence in determining his future, they will factor in awards of "excellent student" titles.
Meanwhile, as Zhao's son grows, high PE test scores will be a bonus to help him attend good high schools and universities, she said.
A fitness training club in Beijing told China National Radio that it has opened special courses to help middle school students obtain high scores in PE tests in the zhongkao, with each class costing more than 200 yuan ($31).
A PE training institution in Guangzhou told CNR that one of their most popular courses teaches pupils jump-rope skills, with 30 classes costing 9,600 yuan.
Many students choose jump-rope because it is easier to master than running or the long jump, according to one coach who was interviewed.
China's traditional idea of talent cultivation places more emphasis on mental education than physical, so schools are squeezing PE classes to save time for the major subjects. Some are even ignoring the compulsory hour of exercise required by the ministry.
Wei Shanqing, a PE teacher at a middle school in Kunming, Yunnan's capital, said the province's reform will prompt schools and parents to place more importance on students playing sports and physical exercise, thereby improving fitness levels at primary and secondary schools.