A budding attraction
By Xu Lin/Liu Kun | China Daily | Updated: 2021-03-23 07:59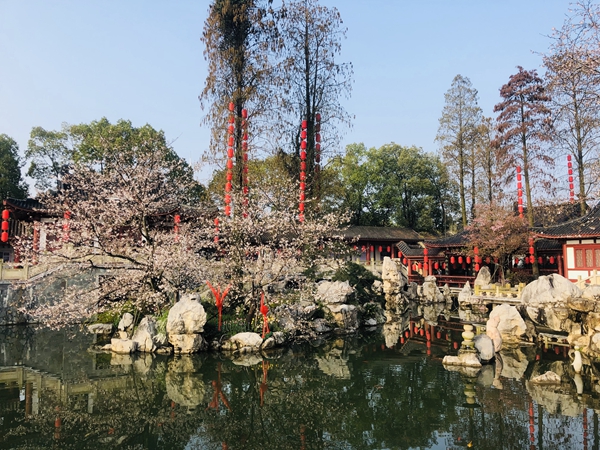 Gao Yan, from a hospital in Nanjing, Jiangsu province, received a flower garland that represents friendship from a former comrade, Xiong Zhao, from Wuhan, China Central Television reports. The duo worked together during last year's lockdown.
Gao says that they had never seen each other's face. They became familiar with each other's appearance by seeing photos on WeChat.
Other visitors can book online and enjoy the cherry blossoms for free, with a limit of 10,000 people on workdays and 15,000 on weekends. They need to provide their travel history and health codes, ID card and undergo a temperature check.
The city's East Lake Cherry Blossom Garden displays an exhibition of photos, videos, paintings and sculptures of medical workers fighting against COVID-19.
According to officials of the garden, establishing these sculptures is a way of paying their respect to contribution to the city of these brave men and women, as well as enhance the garden's artistic atmosphere.
With an area of 28.3 hectares, the garden boasts more than 60 species of cherry blossoms and a total of 10,000 trees, providing a longer flowering period each season. It has welcomed as many as 40,000 daily visitors.
From 6:30 pm to 10 pm, tourists can enjoy a fantastic night viewing of the flowering cherry trees, along with colorful lighting in the shape of different animals, together with the nearby traditional Chinese tower.
During its annual cherry blossom festival that lasts until early April, the garden holds colorful activities pertaining to traditional Chinese culture, such as a hanfu festival and a traditional Chinese music festival.
The provincial culture and tourism department announced 10 routes for visitors to embark upon to the city's famous cherry blossoms.
It's also appealing to scenic areas and travel agencies across the province to improve their tourism products and arranging chartered buses and trains to enjoy the cherry blossom season, offering coupons for entrance ticket fees.
According to officials from China International Travel Service (Wuhan) Ltd, of CTG Travel, thanks to the promotion of the central and local government, more tourists are showing their interest in visiting Wuhan and enjoying its cultural heritage, seas of flowers and delicious food.
The travel agency offers popular two-and three-day trips to the city, allowing tourists to enjoy the Yellow Crane Tower, Yangtze River Bridge and cruises featuring the city's grand light shows along the banks of the river.