Tropical tourism
By Xu Lin | China Daily | Updated: 2021-04-06 07:57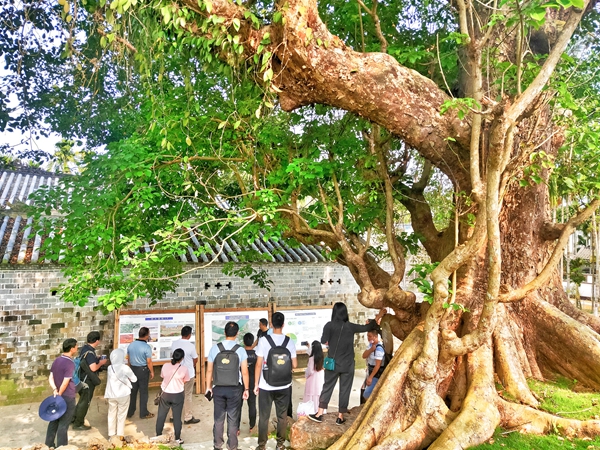 Temple renovation
In Hainan's Chengmai county, Longji village was built along the rolling mountains and is adjacent to a river. Like other ancient villages in the county, it is well known for its culture, and locals have built houses and tools with volcanic rocks for generations.
Longji's 200-year-old ancestral temples-Tongde Hall and Jiangxing Gong Hall-which were built next to each other, were worn down after years of going without repair and overgrown with weeds.
However, a 2019 renovation project has rejuvenated them with an innovative design. Using 80 trunks of Hainan's local timber trees, the trunks are built as a pillar to support a 900-square-meter transparent glass, protecting the temples from wind, typhoon and rain.
The project follows guidelines of the 1964 Venice Charter, which offers reliable direction for the preservation and restoration of ancient buildings.
With a mixture of traditional and modern construction materials, the original structure was preserved and the entire opening space was expanded with a glass roof connecting the two temples together. Hainan's abundant sunshine creates magnificent reflections of the white clouds and starry sky on the giant glass roof.
Ye Man, chief designer of Shanghai-based Civil Nova Group that is in charge of the design and construction of the renovation project, says it was not easy to restore the two temples to their original state as they were in disrepair for years.
"Why not simply preserve them on site? It looks like a modern square space, but when you look at it closely, you will be able to observe the delicate stone and wood carvings," she says.
Still, Ye believes it is necessary to preserve the original state of ancient architecture as much as possible, rather than using reinforced cement. On this basis, Ye and her team aim to repair them in a creative way.
"The two temples are like senior leaders of a clan, and the project is to literally crown them. It's like when you get a precious old jade, you will put it in an elegant box to protect it," she says.
The final phase of the project is coming up, and Ye hopes that the two ancestral temples will be open to the public, attracting tourists to the village.
"It's essential to preserve the ancient architecture in traditional villages, which are important tourism sites for Hainan. The rural revitalization strategy should not only focus on the economy, but also our cultural confidence," Ye says.
However, it is not easy to persuade the villagers to accept the avant-garde project.
As the two temples fell, they built modern architecture nearby as a substitute. To them, the temples are the village's scared property and it is hard for them to agree to open up the temples to the public.
It is a tradition for Hainan locals to prepare sacrifices and hold a ceremony honoring local gods during festivals. So the village committee invited senior villagers to hold such a ceremony and sought divine advice. They concluded that the project can be implemented.
"Villagers are conservative and opinions are divided about the project. So we have to use a traditional way to make a decision," says village head Zheng Tian'guang.
He says the project is good for the village's long-term development as a tourist destination, and villagers can also open homestays and offer fruit-picking as a tourist activity to increase their incomes.
"For the project, science conflicts with tradition, and it tells us that it's important to properly deal with culture conflict in any integration process," Ye says.