China-Laos rail link on track to boost trade, tourism
By ZHAO RUINAN | CHINA DAILY | Updated: 2021-04-20 07:59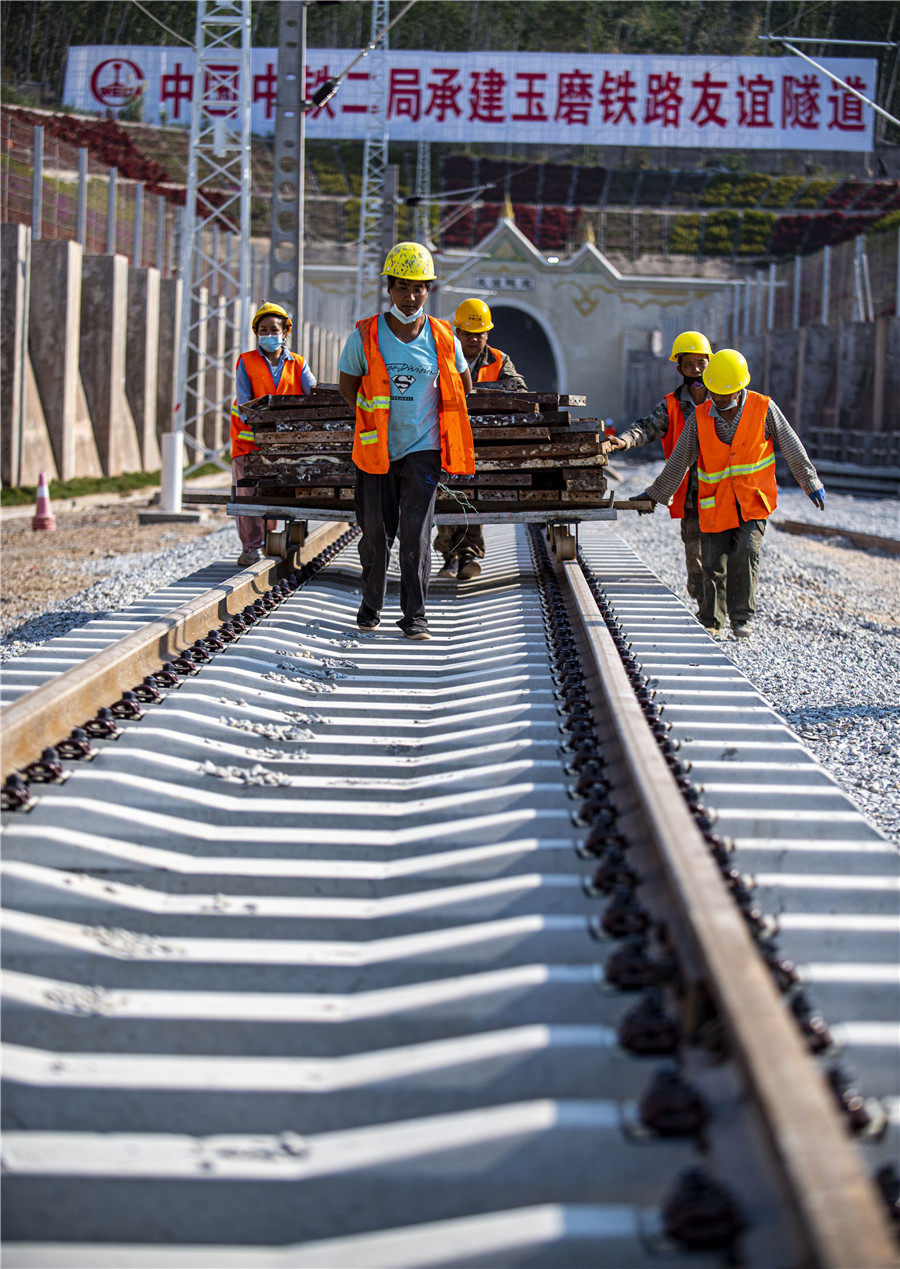 "The website runs three languages-Laotian, English and Thai-and we plan to launch our Chinese-language site by the end of this year," he said.
Kong added that he will also consider offering a China-Laos tour package after the new line opens.
"In the past, most foreign visitors came to Laos but did not visit China, because it was inconvenient. After the line starts operating, I can offer package tours in both countries," he said.
Song Qingrun, an associate professor at Beijing Foreign Studies University's School of Asian Studies, said the line is expected to boost the local economy and improve people's livelihoods.
"For example, it will make life easier for people who live along the route, as transportation charges for commodities are expected to fall," Song said.
In a report released in June, the World Bank said that by linking with the vast BRI network, the China-Laos railway could potentially raise incomes in Laos by up to 21 percent in the long term.
The rail project has created thousands of jobs and generated additional economic activity in Laos, according to local media reports.
The project has also broadened the knowledge of those working on it.
After joining the Laos-China Railway Co as an intern in June, Dalavanh Sibounma, 25, started to learn about modern railway technologies. Since January, he has taken part in onsite training programs provided by the company.
He has learned a great deal, from laying tracks to checking and repairing locomotives, which he wants to drive when the line opens.
"I'm not sure if I can become a driver, but the experience I have gained from the project means a lot to me. I'm glad I have been able to learn about railway technologies step by step," he said.
The programs welcome not just employees engaged in the project, but also locals eager to seize the opportunity to learn new skills.
According to China Railway No 2 Engineering Group, which is involved in the project, more than 10,000 Laotian workers have benefited from the training.
Jia Duqiang, an associate researcher in Southeast Asian studies at the Chinese Academy of Social Sciences, said the new rail link will help trade between the two countries, taking it to a new stage.
"Transporting Laotian goods to China currently involves a long and arduous journey. They are first taken by truck from Vientiane to Kunming, which takes more than 30 hours. After being unloaded in Kunming, they are then taken by road to their destination cities across China," Jia said.
However, the high-speed line will shorten the journey time to half a day, he said, adding that, for example, passengers will be able to leave Vientiane in the evening and arrive in Kunming next morning.
Jia said the line will also speed up exchanges and increase cooperation between the two countries.
Sino-Laotian trade has grown rapidly in recent years, and China is now Laos' biggest foreign investor and the country's second-largest trading partner after Thailand.