Japan plays dangerous game with bellicose joint statement
By Andrew Korybko | chinadaily.com.cn | Updated: 2021-04-29 08:46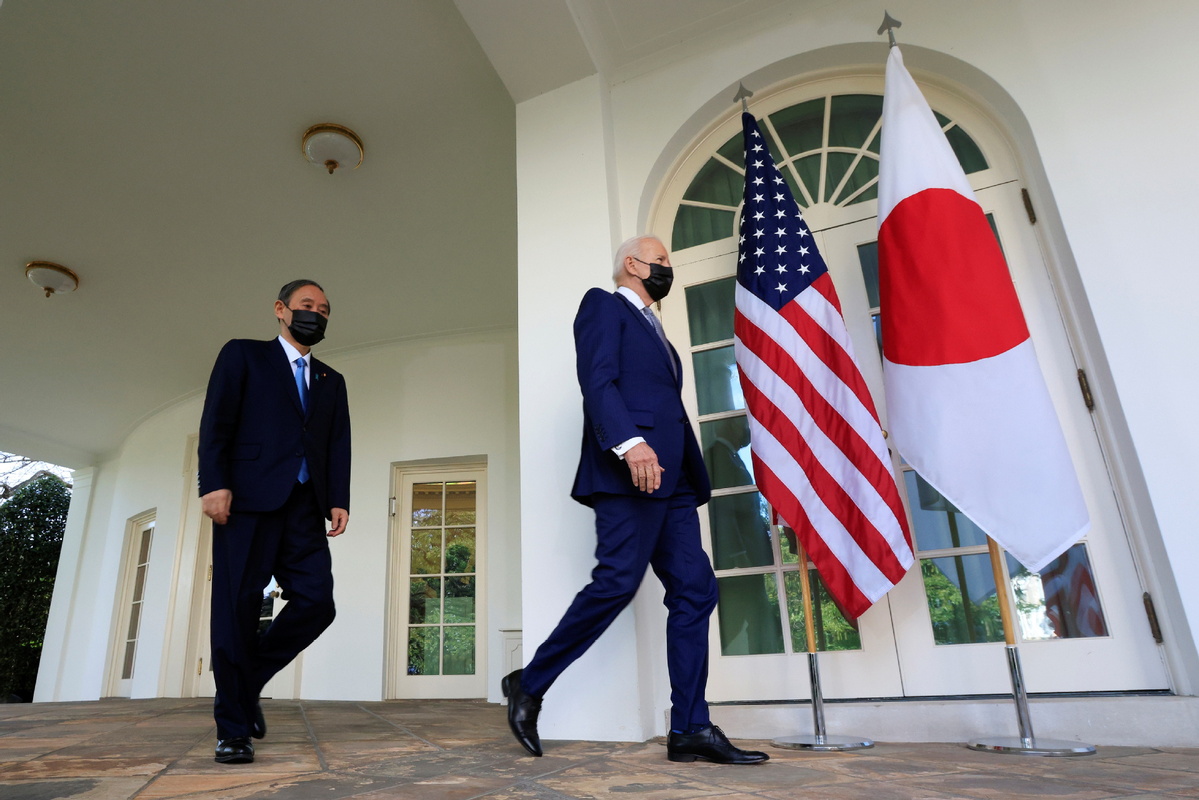 Japanese Prime Minister Yoshihide Suga visited the US during April 15-18 to meet with President Joe Biden, the first such visit of a foreign leader to the White House since America's new leader was sworn into office. The two leaders released a joint statement shortly after their talks, which was strongly condemned by China. The reason for Beijing's vocal response was the extremely aggressive text of the statement, which infringes on China's internal affairs. The statement carried extra weight since the US reaffirmed its threat to potentially use its nuclear capabilities to support Japan in its regional disputes.
Japan has a plethora of problems to deal with at home, which is why it's so strange that it's suddenly concerned with other countries' affairs. These domestic issues include reinforcing the ruling coalition, focusing on economic recovery, containing the COVID-19 pandemic, preparing for this summer's Olympic Games and seriously reconsidering its controversial decision to release irradiated water from the Fukushima nuclear reactor into the Pacific Ocean. If Japan's leaders were as rational as their reputation suggests, then they'd care more about what's going on on their turf right now, instead of meddling in the rest of Asia.
That's precisely what they're seeking to do, since the joint statement condemns China's naval activities in the East China Sea, the South China Sea and the Taiwan Straits. It also repeats the debunked information warfare narrative about alleged human rights abuses in the Hong Kong Special Autonomous Region and the Xinjiang Uyghur autonomous region. On top of that, the US and Japan doubled down on their commitment to the Quad, as well as this emerging bloc's vision of a "Free and Open Indo-Pacific", which is a euphemism for continuing to violate China's maritime territory through "freedom of navigation" operations.
Another issue of concern for China is those two countries' new "Competitiveness and Resilience Partnership", which in effect functions as an attempt to counter Beijing's Belt and Road Initiative. This is evidenced by its stated intent to "advance secure and open 5G networks" (a euphemism for pushing back against Huawei's leading position in this industry), and "cooperate on sensitive supply chains, including semiconductors". While CoRe also includes biotechnology and green technology cooperation, these are pretty much distractions from that partnership's role in worsening the trade and tech wars.
The Chinese people — and even those elsewhere who hold a casual familiarity with modern history — can't help but worry whenever Japan officially proclaims an interest in China's domestic affairs. After all, the historically traumatic memory of World War II still lingers and will never fully go away. Japan keenly knows this, which is why it was so inappropriate for its leadership to issue the joint statement they did. It's also disappointing because many had high hopes that Japan would change its increasingly militant ways in response to the COVID-19 pandemic by concentrating more on win-win regional cooperation.
It should be remembered Japan voluntarily joined the Regional Comprehensive Economic Partnership last November, alongside China and over a dozen other countries, so it's odd it would all of a sudden take this stance its top trade partner. This suggests Japan still doesn't fully function as an independent state, due to its continued vassalage to the US as a result of America's ongoing military occupation of the country. There's no other reasonable explanation for why Japan would risk endangering its own interests in this way by signing on to such a warmongering joint statement.
There's no doubt China will resolutely defend itself from all manner of threats, be they conventional or hybrid ones, irrespective of whichever aggressor attempts to infringe on its interests, so no one should be worried about the security of the People's Republic. Instead, they should pity the Japanese people, because their leadership is so obsessed with serving the interests of their foreign masters they're neglecting the plethora of domestic problems they presently face, which crucially includes containing the COVID-19 pandemic. Hopefully their leaders will realize that they're accountable to their own people, not to the US government.
Andrew Korybko is a Moscow-based American political analyst.
The opinions expressed here are those of the writer and do not necessarily represent the views of China Daily and China Daily website.
If you have a specific expertise and would like to contribute to China Daily, please contact us at opinion@chinadaily.com.cn, and comment@chinadaily.com.cn.