The red land of yellow earth
By Erik Nilsson | China Daily | Updated: 2021-05-25 09:04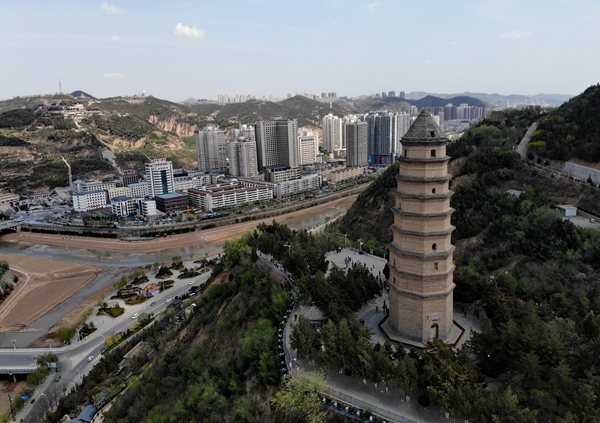 Nanniwan Revolutionary Site
Nanniwan is where the CPC industrialized the wilderness, against all odds.
It hosted the Mass-Production Campaign that transformed vast swathes of thorny no-man's land into productive terrain from 1941 to'44, as a solution to the Kuomintang blockade of the Shaanxi-Gansu-Ningxia border.
The Eighth Route Army's 359th brigade converted wasteland into productive land, creating rice paddies, cave houses and workshops, with only the most rudimentary hand tools at best and often nothing but their bare hands.
The Nanniwan Revolutionary Site hosts a square containing what it claims is the world's largest hammer-and-sickle statue. The sides of the 13.8-meter-high, 19-meter-wide, 21-meter-long copper-and-steel structure are emblazoned with Marx's writings in German and photo exhibitions charting the development of the CPC and the country.
The square is across the street from a 200-square-meter temporary exhibition hall scheduled to be replaced by a 7,000-square-meter museum this year.
It displays farm tools, photos and relics that reveal how Nanniwan's transformation in turn transformed the nation.
1938
1938 takes its namesake from the significant events that took place in Yan'an that year, such as the sixth plenary.
The main attraction is the live show, Yan'an, Yan'an, which is an updated version of a red folk-culture performance presented on rustic stages throughout the region during the revolutionary period.
It's celebrated for its stage technology and special effects, including lasers.
The performance follows the story of Bai Yanming, a college student from Shanghai who traveled to Yan'an in the 1930s, and two Red Army soldiers, as they encounter the vicissitudes of the Long March, Mass-Production Campaign, Japanese bombings and the Red Army's crossing of the Yellow River amid Kuomintang fire.
Over 1 million visitors have watched Yan'an, Yan'an since it debuted in 2016, and the show was recently updated for the 100th anniversary of the CPC's founding.
Actors dance, perform acrobatics and sometimes appear to climb up the walls or fly over audiences' heads.
The crowds, who often attend wearing Eighth Route Army uniforms, bounce inflatable plastic pumpkins, nibble on dates handed out by actresses who play farmers and are showered with red-star shaped confetti.
The building adjacent to the venue is packed with booths selling local handicrafts and folk arts like Shanbei (Northern Shaanxi) paper-cuts and waist drums, and classes on how to create or perform them.