Making waves
By Chen Nan | China Daily | Updated: 2021-06-17 07:45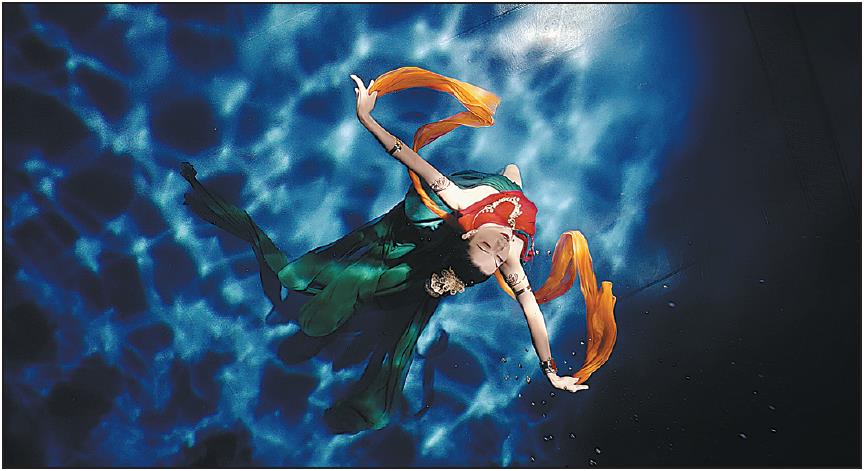 An ancient and legendary tale of romance is given a new setting and still provides enthralling viewing for a modern audience. In a manner of speaking, it is not of this world. Fittingly for a legend, it is not constrained by the normal forces of gravity, nor will it be impeded by the weather. The alluring tale is portrayed in what seems like slow motion.
Ode to the Goddess of the Luo River, a signature work by Cao Zhi, the son of Cao Cao, a warlord of the Eastern Han Dynasty (25-220), tells the story of the son's enchantment with the goddess of the Luo River. She is believed to be the daughter of emperor Fuxi of prehistoric legend, who became a nymph after drowning in the river, a tributary of the mighty Yellow River.
Her story has been the inspiration for countless contemporary artists, who have portrayed the goddess of peerless beauty through various art forms, like movies and dance dramas.
On June 12, the Goddess of the Luo River came alive in a video shared by Henan TV Station on social media platform Sina Weibo. Not surprisingly, it went viral and has been viewed more than 20 million times.
But the reason the video, which runs for around two minutes and is titled Rhapsody on the Luo River Goddess, created such an impression and has generated such a wave of publicity, is that it was shot underwater. He Haohao plays the role of goddess. She masters not only her art but the technique of holding her breath as her lungs struggle to carry out their function. All this is done with the most serene expression.
The tale captures the enchanting appeal of that ancient Chinese goddess, who was described as "elegant as a startled swan goose and supple as a swimming dragon" by Cao Zhi.
"The performance is amazing and almost dreamlike. It brings a flying fairy alive vividly," one viewer writes on Sina Weibo.
"The combination of underwater cinematography and traditional Chinese dance is so beautiful, which enables viewers to appreciate traditional Chinese culture in a fresh way," another viewer writes.