Going beyond the confines of time
By Lin Qi | CHINA DAILY | Updated: 2021-07-16 07:30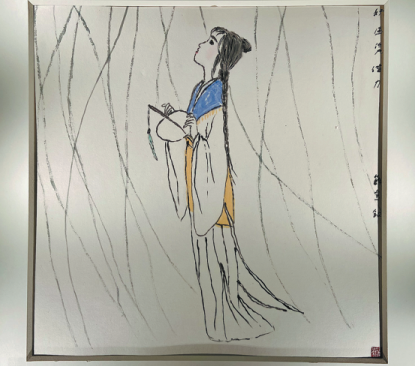 Another of his pieces, Dream of the Red Chamber, Xue Baochai. CHINA DAILY
Qi is known as an accomplished painter, calligrapher, poet and seal engraver. Han is well-versed in painting and writing and he has published a dozen books, one of which won the prestigious Lu Xun Literature Prize for essays in 1995-96.
Han's literary attainment renders a scholarly, humanistic touch to his work, and a distinctive perspective for him to appraise Qi's art.
"Qi's paintings are humorous and philosophical," Han says. "His paintbrush is like a magical wand and whatever motif he touched upon, his subjects sparkle with wit and insight."
Han recalls the excitement of seeing Qi's work, Friendship in the Past, years ago. It shows two chickens fighting for a caterpillar, and Qi left a comment on the painting saying,"Food makes friends become enemies."
"The chickens are like a mirror in which people see themselves and reflect on their own behavior-whether they too sacrifice principles for benefit," Han says.
Wang Mingming, former director of Beijing Fine Art Academy, says Han's book and works provide an example of how to view great artists and artistic traditions in a contemporary context. "On one hand, we admire them and on the other, we should feel independent and equal in front of them, so that we can truly understand and talk to them," Wang says.
Contact the writer at linqi@chinadaily.com.cn