The money trail
By Wang Kaihao | China Daily | Updated: 2021-08-26 07:42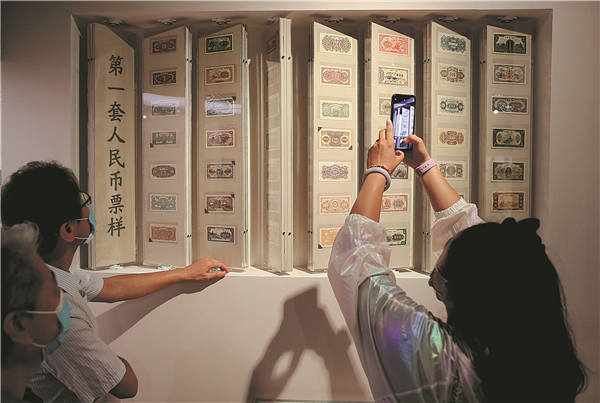 Exhibition displays how revolutionary times saw a global currency emerge from humble beginnings, Wang Kaihao reports.
Times of revolution can be, among other things, a license to print money. From such humble beginnings, the renminbi is growing to be a global currency. The country's remarkable economic strength is worthy of celebration on the centennial of the founding of the Communist Party of China. Chinese money in all its forms-from digital to physical-is used every day, even taken for granted, but where exactly did it come from and how did its use evolve?
The answer awaits visitors to a new exhibition in Beijing. They may well be amazed by how the currency has vividly reflected the grand picture of a Party and a country's destiny through its body of bank notes.
Witness: The Exhibition Celebrating the 100th Anniversary of the Founding of the Communist Party of China opened on Wednesday at Beijing Ancient Coins Museum, located in Deshengmen Archery Tower. It will run until December.
Over 500 bank notes and coins used throughout the past century, on loan from collectors nationwide, are gathered for the special exhibition that reviews the growth of the CPC from a different perspective.
Gu Ying, the exhibition's curator, says that the currencies from the early revolutionary years of the CPC are among the most important highlights.
"The currencies record a time of toughness and glory," she says. "They showed how our country's financing sector led by the Party grew strong from almost nothing."
In 1926, the earliest bank note of the CPC was issued via an agricultural bank in Central China's Hunan province.
"During those years, farmers, a pillar of society that supported the revolution, needed money to increase their produce, and many banks mushroomed to offer them loans," Gu explains. "Hunan and Hubei provinces saw the founding of numerous agricultural banks then, because these places were hubs for the Chinese peasant movement at that time."
From 1926 until the founding of the People's Republic of China in 1949, 514 types of currencies were issued by 404 agencies in the Party-led revolutionary areas nationwide, according to Gu.
Though silver and copper coins, as well as paper money and other common varieties of currency, were seen during those years, some materials were unconventional.
During a difficult period being blockaded by enemies, cloth, for example, was widely used to make bank notes in the revolutionary areas, as some exhibits show. They were sometimes actually sewn on clothes to be more convenient.
"And this 'cloth money' with revolutionary slogans often gave publicity to revolutionary thoughts among the public, like pamphlets," Gu says.