Shenzhou XII astronauts make triumphant return
By Zhao Lei | chinadaily.com.cn | Updated: 2021-09-17 22:34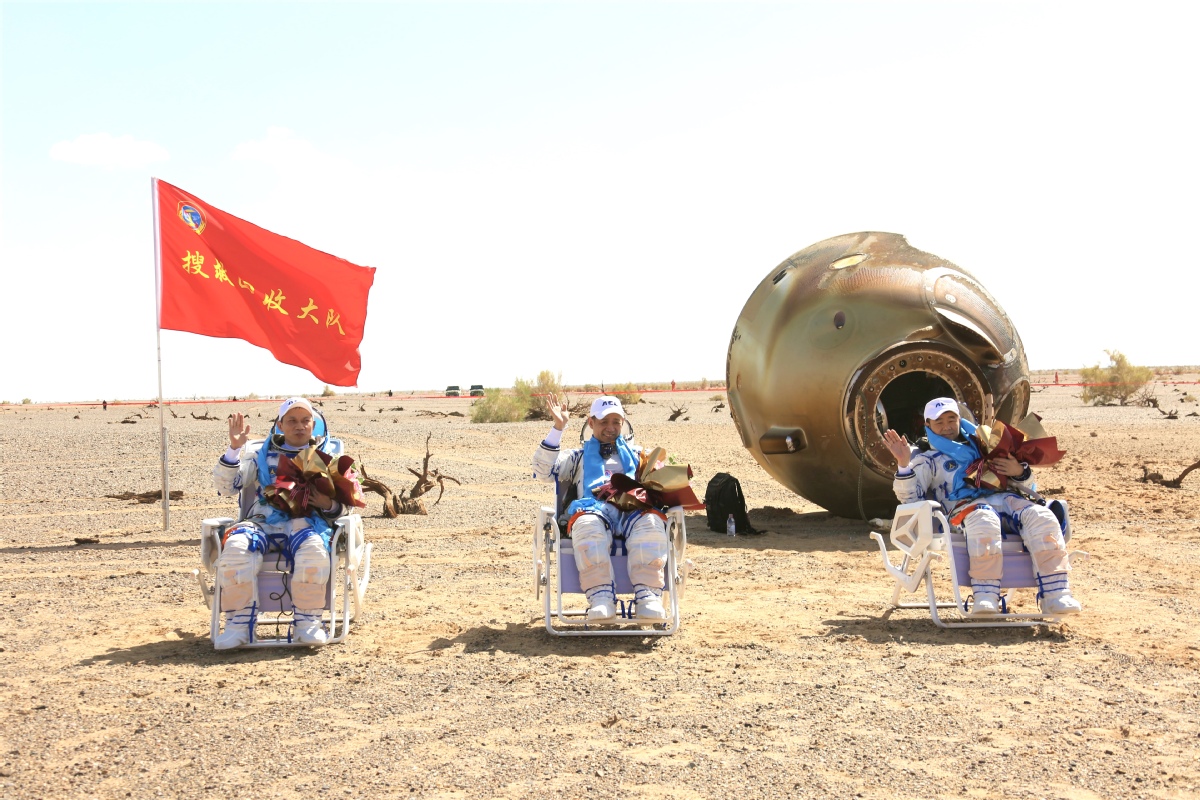 Crew members of the Shenzhou XII mission have returned to the Astronaut Center of China in Beijing's northwestern suburbs after the jetliner carrying them from the Inner Mongolia autonomous region to the capital landed at a military airport on Friday evening.
The astronauts — mission commander Major General Nie Haisheng, Major General Liu Boming and Senior Colonel Tang Hongbo — were welcomed by senior officials and top scientists of China's manned space programs as well as their wives with a brief ceremony at the Chinese military's Beijing Xijiao Airport in the city's western suburbs.
General Li Shangfu, head of the Central Military Commission's Equipment Development Department and China's manned space programs, told the astronauts they worked hard and completed a historic mission. Li added it was a delight to see them back right before China's traditional Mid-Autumn Festival.
Their wives presented each with a bouquet of flowers.
After the ceremony, the crew members were carried onto a minibus and escorted to the Astronaut Center of China to undergo a medical observation that will last several days.
Nie and his crew members landed inside a reentry capsule at the Dongfeng Landing Site in the Badain Jaran Desert in the Inner Mongolia autonomous region on Friday afternoon, completing the country's longest manned spaceflight that started in mid-June.
They were the first inhabitants of China's permanent space station named Tiangong, or Heavenly Palace, living in the gigantic station for 90 days.
During their stay in Tiangong, the astronauts carried out two extravehicular activities, or spacewalks, using a large robotic arm and other equipment to install and adjust devices outside the station. They also performed a number of scientific experiments and technological tests, and had video calls with President Xi Jinping and hundreds of researchers, teachers and students in Hong Kong.
The three-month Shenzhou XII mission, the nation's seventh manned space mission, is part of the Tiangong program, which aims to complete a three-component station in low-Earth orbit before the end of 2022.
The next crewed spaceflight — Shenzhou XIII — is scheduled to be launched in October at the Jiuquan center, sending another three astronauts to the Tiangong station to work there for six months.
In 2022, two large space labs will be launched to connect with the core module. Moreover, two manned missions and two robotic cargo flights will be made that year to continue construction of the Chinese space station, which is scheduled to be completed and start formal operations around the end of next year.