Young tech influencers know the sky's the limit
By Wang Qian | China Daily | Updated: 2021-11-24 07:55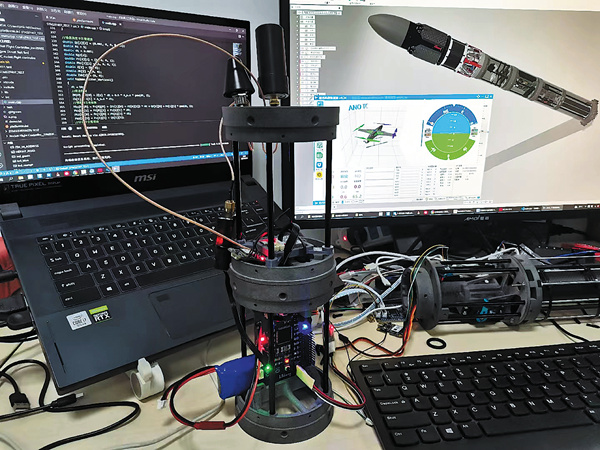 Rocket man
When primary school student Liu Shang in Changde, Hunan province, first saw a rocket launch on television, a seed was planted.
"From that moment, I knew it is exactly what I wanted to do," Liu, now 20, a student from Nanjing University of Aeronautics and Astronautics in Jiangsu province, says.
From building water rockets at primary school, drones at junior middle school, to a thrust vector controlled, or TVC, model rocket in college, Liu has realized his dream, step by painstaking step.
He has devoured books and learned technology-driven skills, such as coding and mechanical design, online.
His hit video on Bilibili was posted in August last year. It features a successful launch and recovery of a homemade TVC model rocket. TVC is the ability of an aircraft's propulsion system to manipulate the direction of its thrust to control its attitude or angular velocity.
At about 96 centimeters high and weighing 3.1 kg, the rocket soared to 190 meters and landed safely in a nearby forest after deploying a parachute. The 8-minute video has garnered nearly 2.1 million views and more than 173,000 people followed his Bilibili account.
It took Liu about half a year to design and build the rocket, which he did during his time at home when his school was closed due to COVID-19.
Since posting his first rocket-related video on Bilibili in October 2019, 37 videos have featured him building basic components of the rocket, its various tests and the final takeoff.
"It has been a long journey full of difficulties and challenges," Liu writes in his posts. "The project needs constant learning, exploration and attempts. As long as I keep going, one day I will succeed."
"It is my first TVC rocket with an active attitude control system, which can adjust its attitude in flight. Due to lack of experience and technology, the rocket stability during flight needs to improve," Liu says.
For him, the successful launch has opened a new world and will pave the way to his final goal: to realize a fixed-point landing.
One year later, Liu built another rocket equipped with an upgraded flight control system, which can measure and update real-time rocket data, including speed and location, and send the data back to the ground through a telemetry system. It has four reverse thrusters for deceleration during landing.
"We are working toward autonomy-enabling guidance, navigation and control solutions," Liu says.
In the October video, the new rocket was launched over 300 meters into the sky, but due to a control algorithm issue, there was a problem with the reverse thruster system. An emergency parachute was activated to ensure the rocket landed safely and was recovered.
Liu says that the rocket has been repaired, and he will optimize the algorithm. The next launch is expected to be sometime early next year.
He hopes that one day he can develop a rocket that can fly along a fixed route and realize a soft landing. Before that goal is achieved, Liu will remain creative and keep learning.
His talent has impressed his professor, Zhu Xudong, at Nanjing University of Aeronautics and Astronautics. Zhu told China News Service that the university has already arranged professors in related fields to instruct him in rocket building.
Impressed by Liu's efforts, the official account of the Communist Youth League of China has reposted Liu's story on micro-blogging platform Sina Weibo.
"With increasing followers on social media, I realize that what I do can inspire more young people to find their passion and pursue their dream, like when I found mine as a boy," Liu says.