Peak of endurance
By Xing Wen | China Daily | Updated: 2021-12-07 08:26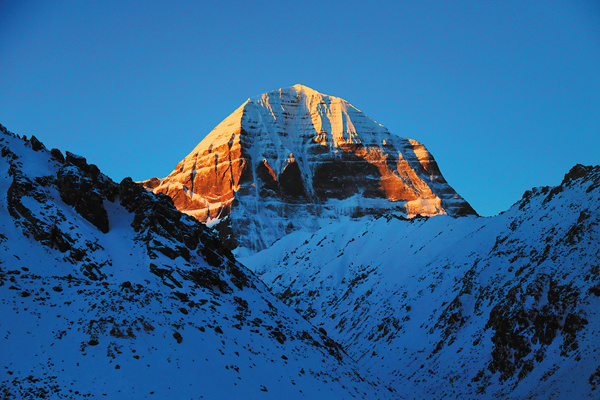 Taking on the 56-kilometer hike around Gang Rinpoche is not a feat for the faint of heart, but both the physical and mental challenges are outweighed by the exhilarating experience and spectacular views, Xing Wen reports in Ngari, Tibet.
Climbing a mountain is a fake challenge. At least, that's how Fran Lebowitz, the American writer and critic sees it, making the claim in the highly-rated documentary Pretend It's a City, in which she depicts the vicissitudes of contemporary urban life-its fads, trends, crazes and fashions.
Lebowitz says she finds that, nowadays, many people participate in activities such as mountaineering because they want to challenge themselves.
"A challenge is something you have to do, not something you make up," says Lebowitz. "You don't have to climb a mountain. ... I find real life challenging enough."
Her views make perfect sense to me. Even so, I was still itching to have a go when my friend, Zhang Tianyao, asked me if I want to take up the challenge to finish the grueling 56-kilometer trek that circles the Mount Kailash, or Gang Rinpoche in Ngari prefecture, Southwest China's Tibet autonomous region.
At the time, we were discussing how we should spend our annual leave.
"Do you want to try something exhilarating over the vacation? What about hiking around Gang Rinpoche?" he asked.
His words reminded me of a film I watched several years ago. The film, Path of the Soul, traces the pilgrimage of 11 Tibetan villagers from Chamdo to Gang Rinpoche, a mountain that holds a holy position in many religions, including Tibetan Buddhism and Hinduism. The pilgrims would prostrate themselves every few steps after setting off on the 2,500-km-long journey. I was impressed by their natural simplicity, kindness, endurance and perseverance.
At that time, for me, a person who had never ever set foot in Tibet, the mountain located in the remote western hinterland of the Qinghai-Tibet Plateau seemed to be a faraway place beyond my reach.
However, Zhang proposed the endeavor in such a relaxed manner, it made me feel that the route would be something we could easily reach and conquer.
I had been feeling quite down and restless for some time. I assumed, perhaps a little naively, that maybe an epic mountain adventure would be just the tonic for my agitated state of mind and provide some inner peace.
"OK!" I replied assertively, steeled with a newfound determination.
With that, planning the trip began in earnest.
The Ngari prefecture, averaging over 4,500 meters above sea level, has a long, cold winter. Some parts of the prefecture, including Mount Gang Rinpoche and its nearby areas, were hit by a blizzard before our arrival in late October. Hiking and climbing at high altitude are already difficult, let alone when the paths are frozen or heavily carpeted in snow.
Our fitness and stamina would be put to the test, as we were certainly going to face freezing conditions, a lack of oxygen and extended exposure to the sun, as well as the specters of possible altitude sickness and exhaustion, among a litany of other dangers, both conceivable and inconceivable.
With this in mind, I carefully prepared my personal equipment, which included a pair of hiking poles, a down-filled jacket, a hooded fleece, knitted hats, woolen gloves and socks, climbing boots, sunglasses and an outdoor headlamp.
I packed all my gear and boarded a plane to Lhasa, capital of Tibet, where I met Zhang.
We still had to drive more than 1,200 km from Lhasa to Darchen, a small town located to the south of Gang Rinpoche. It's the starting point of many pilgrims who come to trek around the holy mountain.
Such a long journey was undoubtedly tiring, but there's no doubt that the specular views-featuring snowcapped peaks that seem to spear the clouds, lakes with mirror-like surfaces, brooks flowing through desolate landscapes and sand dunes sculpted by the wind, as well as herds of yaks and sheep alongside teams of horses roaming freely-were a feast for the eyes.
Getting closer to Darchen, we caught sight of a peak which, like a majestic snowy pyramid, towered above many of the other mountains. We immediately recognized the iconic natural wonder. That's Gang Rinpoche. At 6,658 meters, it is the second highest peak in the Gangdise Mountains.