Joint patrol teams keep Mekong safe
By LI YINGQING in Kunming and CHEN MEILING | China Daily | Updated: 2022-01-14 07:39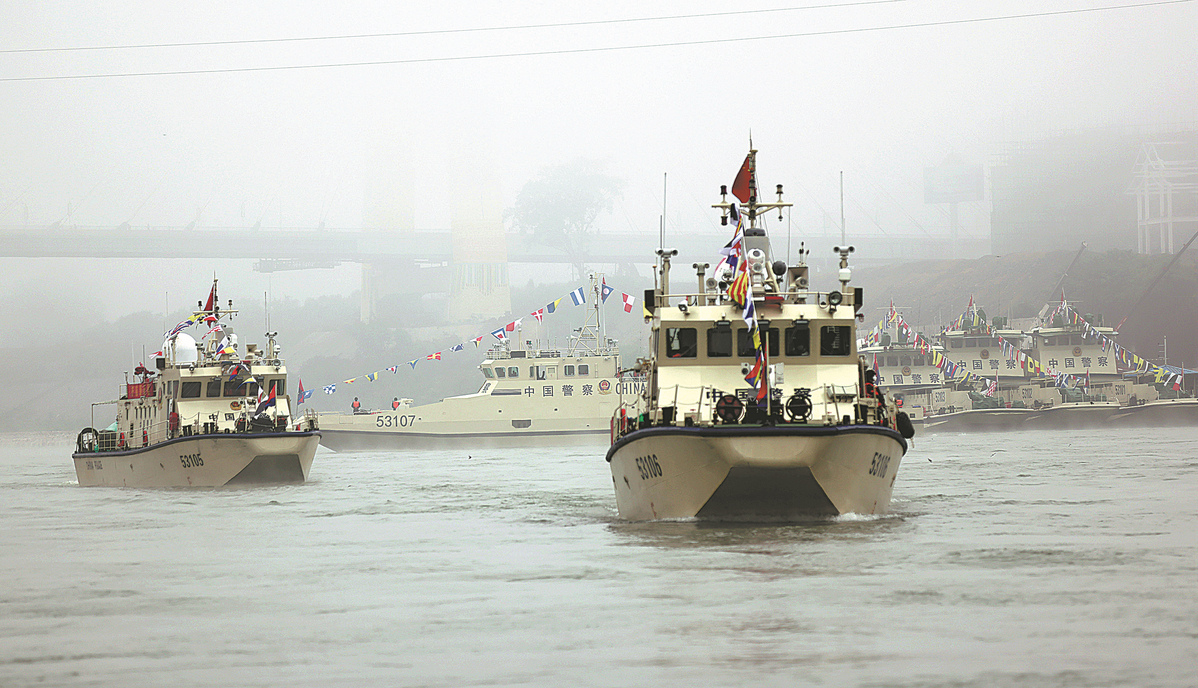 Tan, 46, who grew up along the Yangtze River in Chongqing, dreamed as a child of becoming a captain. He learned to steer a ship at the river transport school in the city, later becoming a sailor on the Yangtze, earning about 400 yuan a month.
After hearing that high salaries could be earned on the Mekong, he left his hometown for Xishuangbanna Dai autonomous prefecture, Yunnan province, where he was promoted from sailor to first mate and then to captain, before becoming a ship owner.
Compared with the Yangtze, the Mekong flows faster and is more hazardous, with countless rocks dotting its waters, but such factors failed to deter Tan. After witnessing numerous accidents on the waterway, he drew up a map for the 348-kilometer route from Jinghong port, Yunnan, to Chiang Saen in Thailand.
However, in 2010, pirates raided his ship, shattering his dream of providing a better life for his crew.
Tensions on the Mekong reached a peak on Oct 5, 2011, when 13 Chinese sailors were murdered on the river. Tan said the victims included a friend. "I felt shocked and grieved," he said, adding that after the killings, he and his peers dared not sail on the river.
Trade on the waterway was suspended, numerous shipping companies went bankrupt, and workers lost jobs.
In December 2011, the China-Laos-Myanmar-Thailand joint patrol and law enforcement mechanism, proposed by the Chinese government, was launched. The first joint security cooperation arrangement for the Mekong among the four countries, it is aimed at curbing public security challenges and safeguarding people's livelihoods.
Tan applied to be part of this team, in the hope of peace returning to the river, and the experienced skipper was subsequently recruited to command a police patrol vessel.
He passed his shipping knowledge on to his police colleagues, helping them adapt to the river. "No matter how good I am, I can only command one ship, but it is important to give others my experience," he said.
He later shared his work experience with patrol teams from Laos, Myanmar and Thailand.
Song Peng, a coxswain, said Tan's experience was extremely useful in helping him learn to steer a vessel.
In summer 2013, Tan helped make arrests for the first time.
"I remember that day well. The cicadas were chirping loudly, the sun was fierce, and my heart was beating fast, as we faced the possibility of confronting armed drug dealers," he said.
After a long period, the suspected drug gang's vessel had still not arrived in the area where it was expected. Tan thought it had either run aground or put in to shore due to falling water levels on the river.
The team set off downstream, with Tan volunteering to check dangerous shallow waters. Five suspects were finally captured and some 580 kilograms of drugs seized.
During the past decade, Tan has joined 106 patrol missions. He has commanded vessels in darkness to rescue trapped sailors, raced to capture 12 stowaways, dealt with emergencies such as a vessel striking a reef, and helped crack down on criminals by using his bravery and intelligence.
He is just one of the thousands of people dedicated to safeguarding the river.
Tan has written essays about marine skills, drawn up maps to "fill in the blanks on the Mekong", compiled an accident warning record distributed free to sailors, and has received a number of awards from national and provincial authorities for his work.