Russian jewel shines for continent-hoppers
By Ren Qi | China Daily | Updated: 2022-02-01 15:04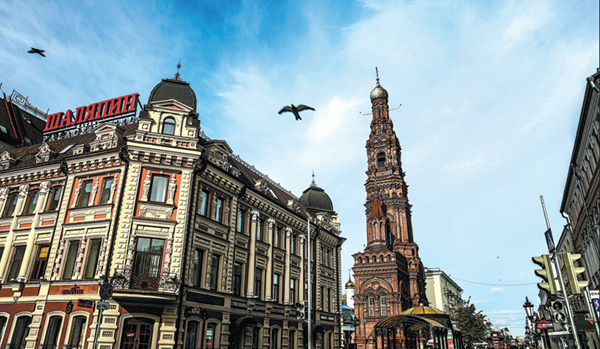 Fancy lunch in Asia and dinner in Europe? Then feast on the cultural melting pot of a multiethnic city where East meets West, Ren Qi reports from Kazan, Russia.
If you're thinking of a trip to Russia and want to venture beyond the well-trodden tourists spots of Moscow, St. Petersburg or Sochi, the city of Kazan might just fit the bill.
Some 725 kilometers east of Moscow, Kazan is called the Istanbul of the Volga River for its setting as a place where Europe meets Asia. It's as if each of the continents can peer into the other, all the better from the tops of church belfries and minarets. The fact that the city's name means "cooking pot" in the Tatar language adds to the allure.
In existence for a millennium, the city is about 150 years older than the Russian capital. Kazan is the capital of the Tatarstan Republic-the land of the Volga Tatars, a Turkic people commonly associated with Genghis Khan and the hordes of warriors that crossed the Eurasian landmass with him.
Slavic Russians make up about half the population, and this cultural mix of Slavic and Tatar cultures makes Kazan an all-the-more-interesting city.
Kazan offers perhaps the clearest illustration of Russia's identity as a transcontinental, multiethnic country straddling Europe and Asia. And for tourists, Kazan is a glorious city that also represents Russia's Czarist past. With its imposing palaces, towering church spires, and thriving cultural scene, Kazan is a pure Russian city that boasts incredible beauty and a heart beating with vitality.