Pyrography lights fire in hearts of villagers
By SUN RUISHENG in Taiyuan and ZHOU HUIYING | China Daily | Updated: 2022-04-06 10:03
National inheritor of gourd art heritage helps improve lives, boost incomes in Shanxi province by sharing skills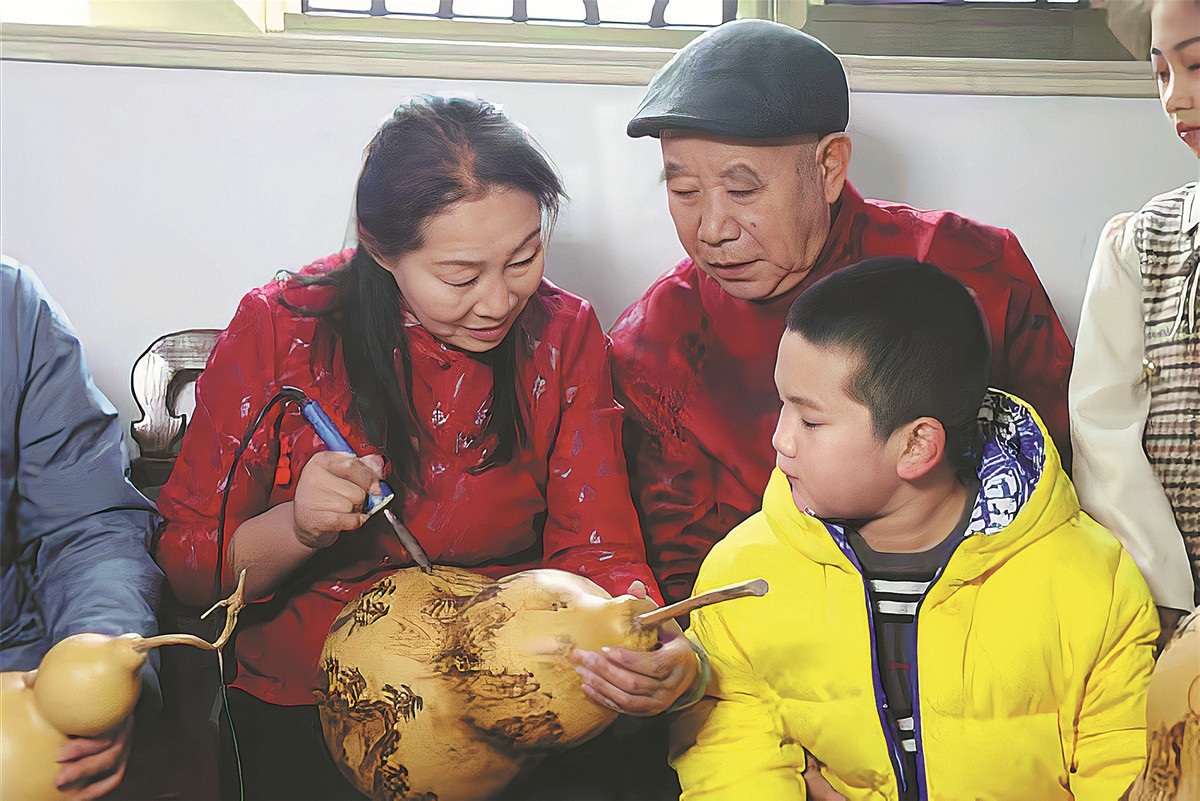 Over the past 20 years, 65-year-old Xue Gailian has used pyrography - a form of intangible cultural heritage in Shanxi province - to decorate gourds and help fellow villagers make money.
Two decades ago, Xue, like most residents of Wucun village in Shanxi's Wenshui county, made a living by growing grapes.
However, her income was heavily dependent on the climate and soil conditions.
"In 1996, I began to plant gourds in my yard, and harvested 27 that year," Xue said. "There is a long history of traditional gourd crafting in my hometown, so I tried to paint on them."
Xue, who has loved painting since she was a child, started with auspicious Chinese symbols, such as dragons, phoenixes and lotus flowers.
"I displayed some of the more satisfying pieces at home," she said. "To my surprise, when friends visited, they seemed to be really interested in them and showered me with praise."
Xue began to plant more gourds, reaping a good harvest almost every year.
Meanwhile, she began to experiment with pyrography - the art of burning images into wood or other materials using heated tools like a poker or a soldering iron.
She developed an interest in the art, which has been practiced since ancient times in her hometown, after learning more about its history.
"At first, it wasn't very easy for me to master the tools, and I wasn't able to make good images," she said. "To improve, I traveled to Shandong province and Tianjin to learn from skilled folk artists."
After she mastered the art form, Xue decided to use her skills to benefit her hometown.
In 2002, she and her husband started a gourd planting and processing center in their village, helping fellow villagers increase their incomes.
"I'm going to plant 3.5 hectares of gourds this year, and in total, about 133 hectares of village farmland are going to be used to grow gourds," she said.
"About a third of what we harvest now is used locally, and the rest is sold to other regions."