Bitten by the passion bug
By Yang Feiyue and Hu Meidong | CHINA DAILY | Updated: 2022-07-06 08:31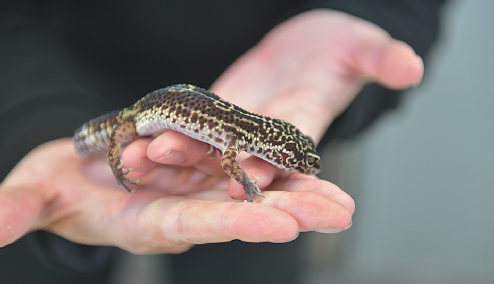 Zheng Xiaoyang shares his knowledge and passion for insects and reptiles with his followers online. He is also engaged in nature education programs for youngsters. CHINA DAILY
Online influencer creates 300-plus insect and reptile vlogs, peppered with dollops of humor, to draw more than 2.4 million fans, report Yang Feiyue in Beijing and Hu Meidong in Fuzhou.
Zheng Xiaoyang reaches into a glass tank sitting in the back of his workstation, fumbles for a while and then whips out something that makes his visitors gasp in horror.
As a small, green snake wraps itself around his hand, the 29-year-old resident of Fuzhou, capital of East China's Fujian province, says: "It is not venomous and doesn't bite. You may touch it."
His reassuring words and the seemingly tamed creature often allay concerns, and encourage some to feel the snake's slimy skin.
Zheng's workstation looks somewhat like a mini zoo. Insect specimens take up cabinet space behind his desk while a rabbit nibbles a carrot under it. A gecko and a mantis, among others, sit cozy inside their plastic boxes lined up on the same desk.
Not far from the table, a miniature rainforest in a glass tank is home to a bunch of other creatures, including the Chinese flying frog, fireflies and stick bugs.
"There are at least 10,000 animals, including specimens, in this room," says Zheng, who shares an office space of 15 square meters with a few colleagues. He adds that he is lucky to have co-workers who don't mind his unusual hobby.
The man in a black cap and dark-rimmed glasses beams whenever he talks shop. His fetish for small creatures, particularly insects, has helped him launch a career as an online influencer in recent years.
Zheng's Douyin account, Xiaoyang's Insect World, has over 300 short videos and boasts more than 2.4 million fans.
Mixed with dollops of humor, the videos feature his field observations about both exotic and weird creatures, some with three eyes or twig-like limbs and others that are masters of camouflage.
He takes the trouble of demonstrating a toad's venom storage organ or how the elongate-oval water scorpion inhales with its butt underwater. No wonder his fans find the videos hilarious and riveting at the same time.
Zheng often starts his vlog with an intriguing question to keep his viewers engaged. The answer is revealed only at the end. He pays undivided attention to feedback and often responds with vivid experiments.
Once asked if a female mantis always devoured her partner, Zheng kept his mantises under long-term observation at his office and uploaded a video to demonstrate the rarity of cannibalism. "In natural settings, the female may prey on the male if she is starving or the male is being careless," he explains.