Nature's stunning exodus
By Xu Fan and Li Yingqing | China Daily | Updated: 2023-01-28 13:32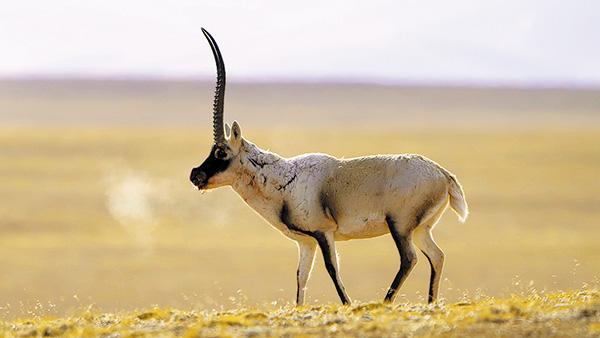 Luo recalls the experience of diving 40 meters down into the depths with a waterproof camera as dreamlike and spiritually healing.
"The water turns darker as you dive deeper. Because most underwater creatures are not afraid of humans, you can see a variety of fish swimming around you," Luo says.
This amateur experience earned Luo a chance to shoot the feature-length documentary, which aims to demonstrate the work of biodiversity conservationists on the plateau. He collaborated on the project with fellow scientist Zhang Zhigang, field work expert Wu Jun and wildlife cinematographer Zhang Chenghao.
"We take Zhuonai Lake as our 'protagonist', as it has drawn in generations of Tibetan antelopes inhabiting in multiple areas of Qinghai and the Xinjiang Uygur and Tibet autonomous regions over age-old migration routes. Why they decide to take such high risks and trek such a long distance to deliver their young is still a mystery," explains Zhang Zhigang, a microbiologist at Yunnan University.
He says that, as the route into the no man's land of Zhuonai Lake is dangerous, few people travel there, so the area is a shelter for wildlife, making it valuable for scientific research.
The team had its work cut out for it, with the dual task of filming the documentary and conducting scientific research - for example collecting Tibetan antelopes' droppings to get a clearer picture of the local ecosystem -all in an environment of extreme deprivation.