Nature's stunning exodus
By Xu Fan and Li Yingqing | China Daily | Updated: 2023-01-28 13:32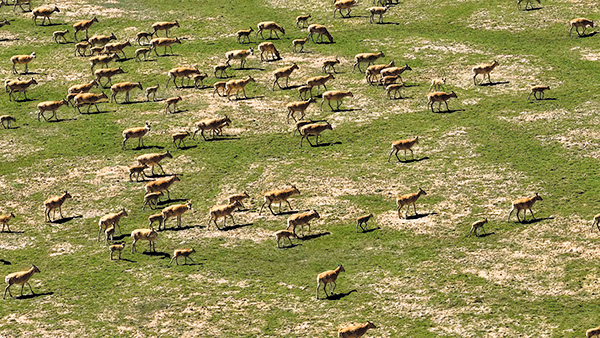 Luo, who specializes in oceanic biodiversity, could perhaps be described as a fish out of water in the antelopes' montane habitat.
The altitude of Zhuonai Lake reaches nearly 5,000 meters, presenting a number of challenges. The expedition members had to use pressure cookers to make their meals, and endured frozen temperatures of minus 30 C and below.
"We also had to carry buckets of fresh water as the water stored at the station was kept for local staff," says Luo.
Although encountering wild animals can be exciting, Luo says the crew was cautious not to interrupt the rhythms of life in the area, and to avoid offending its fiercer inhabitants.
"Most people may think wolves are dangerous, but they are actually scared of humans. A small pack of wolves normally run away when they see humans and their vehicles approach. Wild bears, especially females with cubs in the breeding season, are more dangerous. They may attack if they feel threatened," Luo explains.
While filming, researching and navigating the intricacies of life on the plateau, Luo managed to maintain his daily routine of calling colleagues at the Kunming institute, asking about the situation in his laboratory, which raises all nine species of clownfish and more than 170 species of coral.