Beijing exhibition is elementary, Watson
By Wang Ru | China Daily | Updated: 2023-05-06 09:24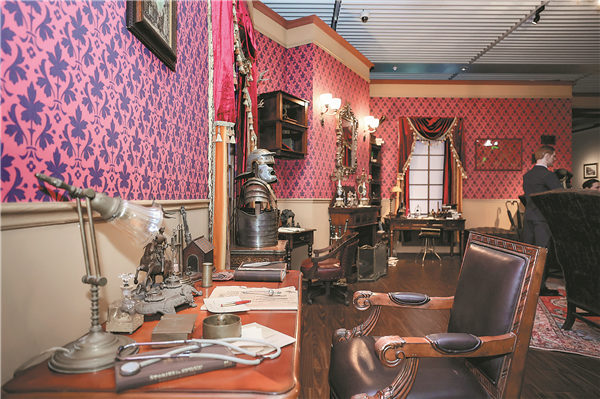 "We want to give visitors a glimpse of people's lives in 19th-century Britain. It was a relatively rich time, during which people had the leisure to read novels. And many everyday objects of the time are exquisite with sophisticated craftsmanship, which offer a feast for people's eyes," says Du Wei, one of the curators of the exhibition.
The exhibition also re-creates Holmes and Watson's flat on Baker Street, showing the living room in which they received visitors and Holmes' favorite desk on which he conducted experiments. It is nearly identical to a similar scene exhibited at the Sherlock Holmes Museum in London, according to Du.
The exhibition unpacks 12 famous Holmes cases, like the ones in A Study in Scarlet, The Adventure of the Blue Carbuncle and The Final Problem. After that, there are interactive facilities which enable people to try their hand at Holmes' detective techniques, like breaking Morse code and reading the information contained in blood splashes and footprints.
"We want people to entertain themselves while experiencing the exhibits. They can learn detective skills at the beginning, then attempt to analyze and crack a case by themselves in the last exhibition area," says Du.
"We want especially young people to get to know the charm of Holmes' detective work, his wisdom and courage, and how to solve problems with the help of such qualities. We believe inspirational education can cultivate young people's ability to think and solve problems," says Wu Yicong, chairman of United Creation.
The exhibition runs until Nov 2, and will then tour other cities across the country.