Residents feel the benefits of hutong revamps
By Yang Feiyue | China Daily | Updated: 2023-05-24 08:13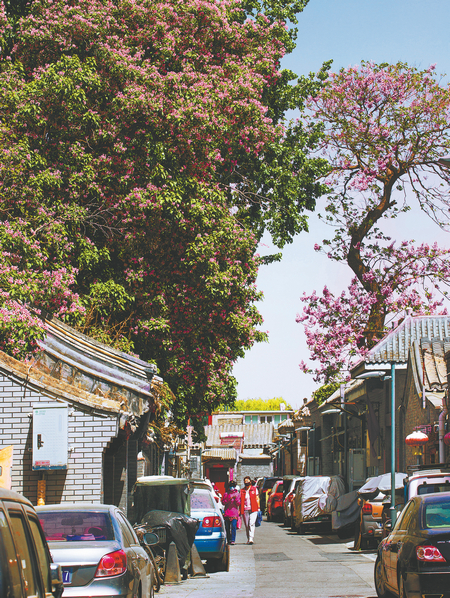 Good communication
The district authorities aimed to use the courtyard beautification program to address hutong residents' urgent problems.
Wang said she appreciated the effective communication with the renovation team each day.
"They put in anti-slip floor tiles and temperature control facilities, and replaced the water and ventilation systems in our courtyard, just as we suggested," she said.
Wang is just one of numerous residents to benefit from the facelift. About 5 kilometers north of Xijiaominxiang, Sun Jiuqiang is now enjoying the best of traditional and modern lifestyles at his courtyard in Yindingqiao hutong.
Sun's home is less than 100 meters from the city's landmark Yinding Bridge. Although the courtyard is tucked away in the depths of a quiet hutong, it is within walking distance of a number of renowned tourist destinations in the downtown area.
These include Yandai Xiejie, a famed cultural street for antiques, paintings and stationery in the late 19th century, and which is still frequented for its gastronomic delights, along with antiques, books, paintings and ancient buildings.
The courtyard at Sun's home covers 300 square meters and is shared by three households.
Sun said an illegal extension to a bar business from the neighboring Houhai area was removed in 2018. Peace and quiet returned to the area, but only for a brief period, before the courtyard residents decided to occupy public space for cooking and to store their goods.
"Conditions in the neighborhood started to change after work began on the courtyard beautification program," Sun said.
A plan was developed based on the courtyard layout and the preferences of the residents, who were provided with kitchen and bathroom facilities, Sun said.
The authorities also helped repair the exteriors of properties and leveled the ground.
"The courtyard is now much more spacious and better organized following the demolition of illegal buildings. We put a considerable amount of thought into arranging our surroundings in an appropriate way," Sun said.
The residents put up a table tennis table in the courtyard to improve their fitness levels.
Sun now sometimes finds it hard to believe that such a dramatic transformation has taken place in the area.
"Communication and interaction among neighbors have increased, and everyone has been willing to manage the courtyard," he said.
"Our neighbors took the initiative to maintain sanitation in the courtyard by organizing regular cleanups and collectively managing the public facilities, while we often come up with ideas for improvements," he added.
As a building designer, Sun was given the chance to use his expertise to improve the neighborhood.
"To make our living space more aesthetically pleasing, I explored new ways to blend traditional and modern elements of Beijing's courtyard houses," he said.
Sun added skylights to sloping roofs to increase natural lighting, and a sunroom equipped with a tempered glass roof was fenced off to create a terrace.
"In our spare time, we go up to the roof to watch the sunset over the hills," he said.