Museum visits surge in popularity this summer
By Bi Nan | chinadaily.com.cn | Updated: 2023-09-06 14:13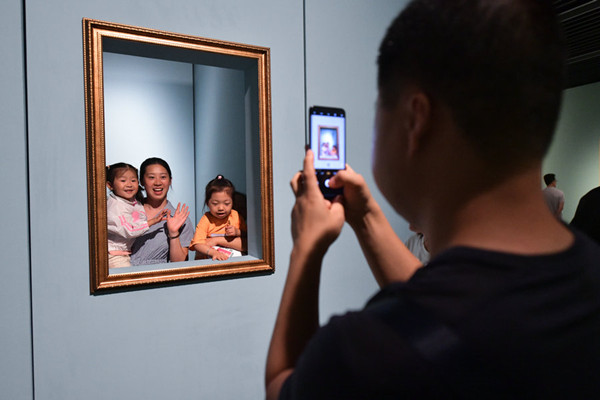 'Check-in'- style exhibition viewing
Amid the "museum fever", some tourists prioritize taking photos and sharing them on social media to demonstrate their presence rather than appreciating the exhibits themselves.
Instances of visitors prioritizing photo opportunities over exhibit appreciation have occurred, often causing inconvenience to other museumgoers and, in some cases, damage to exhibits.
According to a report from China Youth Daily, an incident occurred in Nanning city when a young woman tapped a fellow museumgoer on the shoulder and requested that she step aside. The reason for this request was that the young woman and her friends wished to take photos in front of a painting. They proceeded to take turns, with some of them changing outfits and adopting various poses for their photo shoot. This monopolization of the space resulted in extended waiting times for others who also wished to view the painting.
"Some individuals have caused damage to exhibits during their photo shoots," said Luo Jie, a student from Guangxi University. "They disregarded the 'No touching' signs and lean on delicate items, resulting in significant damage and even tearing some exhibits apart."
Yang Hong, an associate professor at the Communication University of China, said two factors contribute to the phenomenon of "check-in"-style exhibition viewing. First, the desire to generate content for social media has led people to focus on visually appealing scenes for quick photo opportunities. Second, society's increasing reliance on images has led to a diminished focus on the content and social significance of exhibits.
In the age of prevalent social media, garnering online attention has become the primary objective for many individuals when they pose for "check-in" photos. According to a 2023 museum data report released by the short-video platform Douyin, during the past year, the viewership of museum-related content has increased by 165.97 percent year-on-year, with the sharing of such content surging by 558.52 percent. A total of 1.96 million users have contributed to this trend by posting 4.46 million videos showcasing their museum visits on Douyin. These museum-related videos have effectively become a new avenue for generating online traffic.