Pig organs transplanted into monkeys in attempt to sew up shortage of donors
By WANG XIAOYU in Beijing and QIN FENG in Xi'an | China Daily | Updated: 2023-11-21 09:34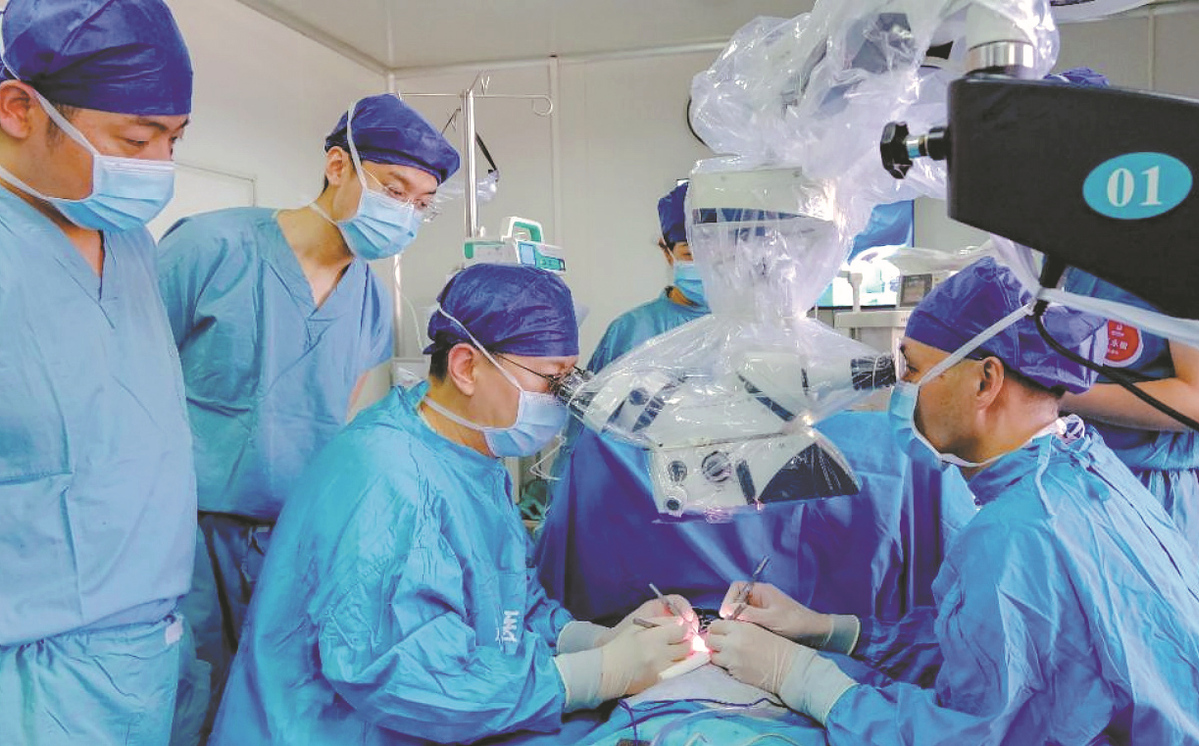 Chinese surgeons in Xi'an, Shaanxi province, have successfully transplanted pig organs into monkeys, furthering their research into animal-to-human transplants — known as xenotransplants — in order to address the shortage of donated human organs.
More than 40 medical experts and researchers from over 20 departments of Xijing Hospital at the Air Force Military Medical University transplanted multiple organs and tissues, including liver, kidney, heart, abdominal wall, cornea, bone and median nerve, from a genetically edited pig into seven monkeys from Oct 29 to 30.
The recipient monkeys are in stable condition, the hospital said during a news conference held on Nov 10.
Notably, the interspecies transplantation of vascularized abdominal wall is believed to be the first in the world as no such surgeries have been recorded in domestic or overseas literature, the hospital said.
"The surgeries represent a positive and proactive attempt to explore xenogenetic transplantations' role in treating severe tissue damage and organ failure, and they have further confirmed the feasibility and efficacy of using such transplantation for human treatment," said Dou Kefeng, an academician at the Chinese Academy of Sciences and a professor at the hospital's liver and gallbladder surgery department.
"Xenotransplant is a potential solution to resolving the shortfall in human tissues and organs for transplantation and carries great prospects. The hospital will continue to delve deeply into the field," he said.
A shortage of organ donations has been a global challenge. In China, about 300,000 people are waiting for organ transplants annually, but only 10,000 to 20,000 end up receiving a transplant each year.
As a result, scientists globally have been exploring the possibility of using animal organs for lifesaving transplants.
The most high-profile cases were two patients with severe heart disease in the United States who received new hearts from genetically edited pigs, one in early 2022 and one in September this year. But both died around two months after the surgeries.
Preventing rejections of animal organs by the human body and the risk of humans contracting animal viruses are among the major hurdles confronting scientists.
Xijing Hospital launched its interspecies transplant program in 2013 and preparations for the recent surgeries began in April.
In July, a team led by Dou successfully transplanted the skin of a gene-edited pig to a patient with severe burns. About 50 days after the surgery, the patient's own skin grew back, the pig skin grafts peeled off and the wounds completely healed.
In late August, samples of the patient's blood and skin were sent to an institution for genome sequencing and nucleic acid tests, showing that no traces of pathogens including porcine endogenous retroviruses, viruses that infect pigs, were detected.