Building a brighter, greener future
China Daily | Updated: 2019-05-15 09:51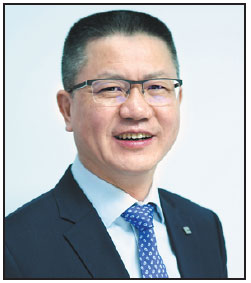 Wang Fucai, president of Clariant China
A1 The BRI is a new paradigm of the ancient Silk Road given the light of international cooperation, embodying China's commitment for further openness and inclusion, from not only China itself, but also other countries or regions along the trade route. Combining with other governments' strategies and support, the BRI is helping to deepen globalization among Asia, Africa, Europe, Oceania and Latin America. A recent World Bank report shows that the BRI transport infrastructure projects alone have increased GDP for BRI economies by 3.35 percent.
A2 By aggregating and leveraging further the incremental market demands, the BRI is contributing to the long-term stable growth of the world economy and further strengthening the globalization footprints with closer global infrastructural and financial collaborations. By all measures, the China-Europe Railway is a superstar, which has already established connections with 49 cities in 15 European countries. The railway could cut logistic lead times in half, with an even lower cost than water transportation.
A3 As a focused and innovative specialty chemical company, Clariant has many production sites around the globe, many of which are located on the Belt and Road. I believe with our world-class green and sustainable solutions, as the BRI develops, the more we can benefit by seeking further market opportunities, considering its ripple effect from infrastructure investment, particularly in the emerging economies of China, Southeast Asia and Africa.
A4 While the BRI is developing fast with extremely good prospects, its implementation does connect lots of countries and regions, involving many elements from cooperation mechanisms to management models. The two established international commercial courts under the Supreme People's Court are a big step forward in resolving BRI-related disputes.
Furthermore, considering the large-scale infrastructure construction and financial sustainability, the BRI might choose to leverage resources and valuable experiences from the world's major economies and multinational companies that really want to contribute to the initiative and be part of it.
A5 While the green economy is a major global trend, peaceful development is the eternal theme of mankind. The China-proposed BRI may help control regional disputes and bring additional opportunities for innovation and sustainability focused MNCs, especially in Asia.
Of the current top 10 BRI partners, eight are Asian countries, and Clariant has established its footprints in these countries and regions. Therefore, Clariant is ready to tap into further opportunities brought by the BRI's geographical influences on infrastructure construction, with our consistent full range of world-class solutions and sustainable innovative products for global quality and green chemistry.