Making an impression
Share - WeChat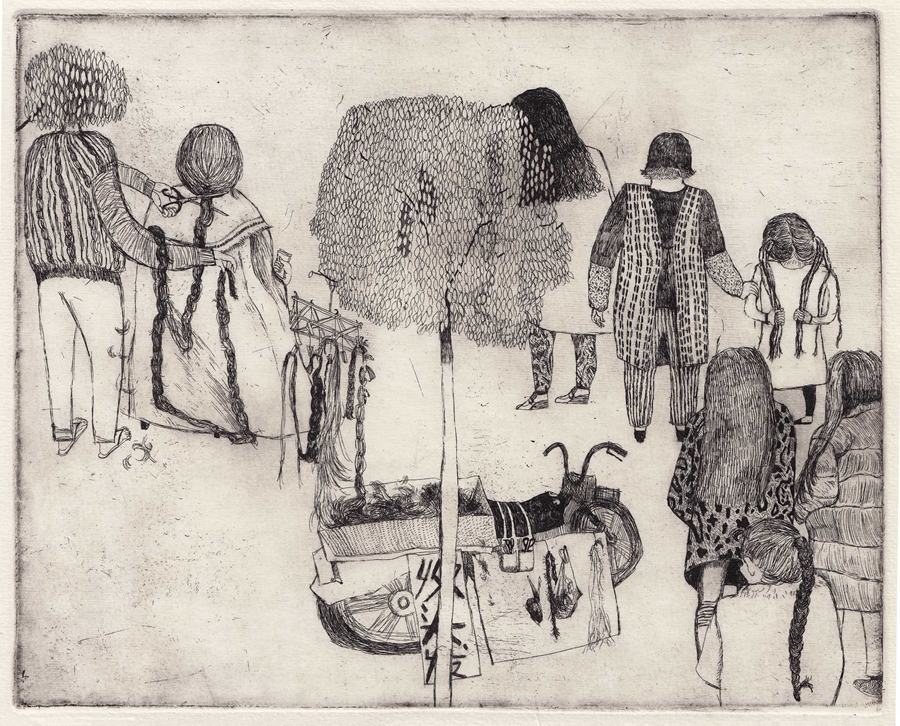 When Luo first read the story, she thought it was a very Chinese tale and the use of etching helped the book achieve a rich effect, with expressive and crisp lines. Etching is a method of making prints from a metal plate, usually copper, into which the design has been incised by acid.
The book, in black and white, made Heimi the third Chinese entrant to win the BIB Golden Apple award, following in the footsteps of Cai Gao in 1993 and Yu Rong in 2013.
"Braid is more like a means of self-expression. Many scenes in the book are from my memory and together they become the story now," Heimi says, adding that details during her stay in her grandma's old house, such as the dents in a worn basin and a really old dog lying in the street, inspired her.
Different from her first book, the story in A Manul Who Wants Everything is not written by Heimi, and illustrating such a story was a new experience for her. The folk story was brought back by Xiong during a field trip to Qinghai in 2014.
Building connection with the story was not easy, and the illustrator's breakthrough came on the back of a suggestion by a friend-to collect and observe rocks in different shapes and colors, which the cat in the story searches for to make pigments from.
The rocks helped Heimi get closer to the story and she began to model the cat in clay. After several adjustments, an image of the character gradually started to form, which was very similar to her own pet cat.
"Life has inspired my work in various ways. Observing the neighborhood, I usually get attracted to an object, a corner or a person, any of which may become a part of my illustrations later on," Heimi says.