In the deep ocean, China stands out
By ZHANG ZHIHAO | China Daily | Updated: 2017-06-16 10:21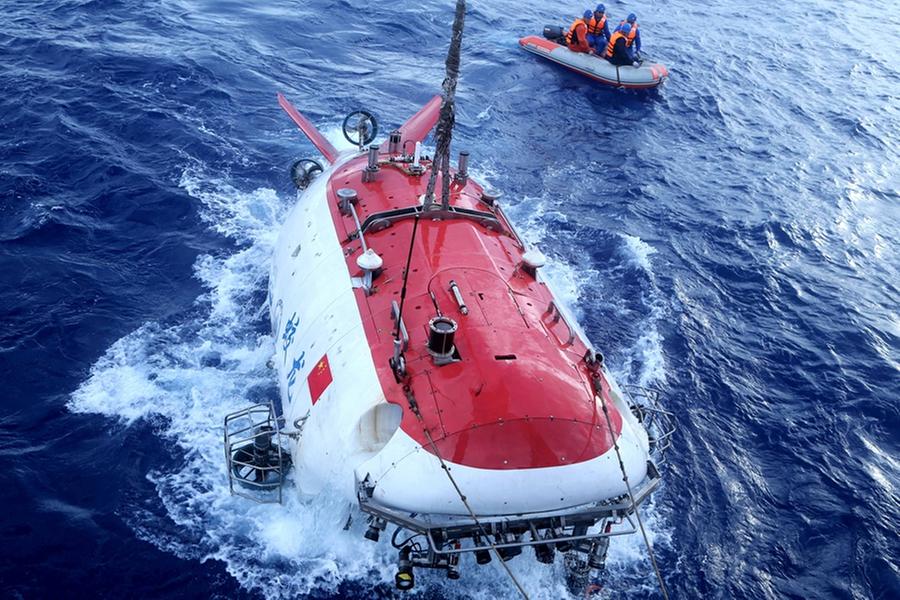 China's manned submersible Jiaolong surfaces after its dive in the Yap Trench on Tuesday. [Photo/Xinhua]
Deep gliders
China is also making strides in building submersibles and underwater gliders that can explore uncharted depths. In March, it became the first country to collect the artificial seismic stratigraphy of the Challenger Deep, the deepest section of the Mariana Trench, according to the Chinese Academy of Sciences' Institute of Geology and Geophysics. The stratigraphy is used to study the Earth's movement, layers and geological history.
In the same month, China also broke the world diving record for underwater gliders-6,329 meters with Hai Yi, a glider designed by the academy's Institute of Automation in Shenyang, Liaoning province. The previous recorder holder was a US glider at 6,000 meters.
Two more unmanned submersibles, Hailong 2 and Qianlong 1, were deployed by the National Deep Sea Center in Qingdao, Shandong province, in early February. They will join and complement Jiaolong in future missions, the center said.
Hailong can work at a maximum depth of 3,500 meters with a wire connected to the support ship, while Qianlong is untethered and can operate at a depth of 6,000 meters.