Xi inspects troops as China's military might on show
By Zhao Lei in Zhurihe, Inner Mongolia | chinadaily.com.cn | Updated: 2017-07-30 13:42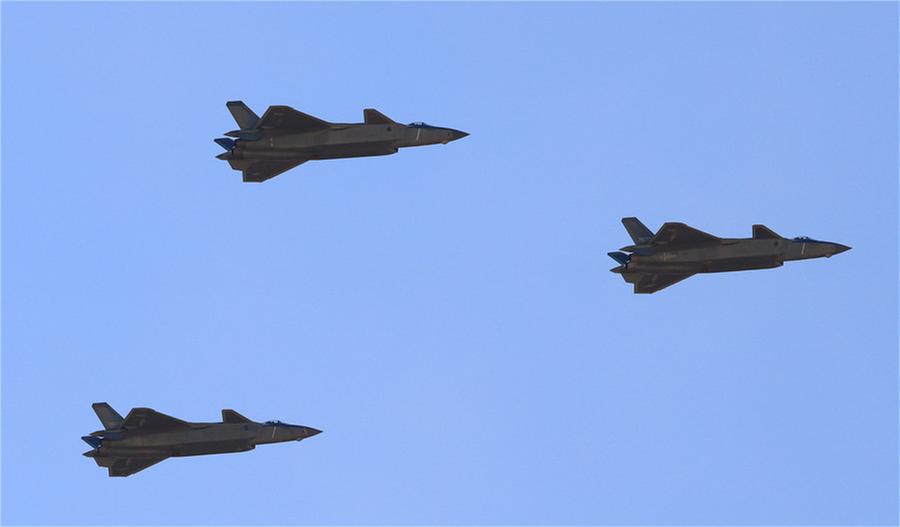 Three J-20 jets fly over over the Zhurihe military training base in North China in the Army Day parade, July 30, 2017.[Photo/Xinhua]
In the sky, the bulk of the aerial combat group roared through the dust and exhaust smoke produced by moving vehicles on the ground. The group was comprised of early-warning and control aircraft, bombers, transport planes, refueling tankers, aircraft carrier-borne and land-base fighter jets and a mechanized parachute unit.
The J-20 supersonic stealth jet, the world's third kind of fifth-generation fighter jet, KJ-500 early-warning and control plane and Y-20 strategic transport jet were among the aircraft in the sky. The next two groups were logistics support and counter-terrorism forces.
However, it was the PLA Rocket Force, the last group to appear, that were perhaps the most eye-catching. Wheeled launch vehicles carried five types of ballistic missiles including DF-16G, DF-21D and DF-26. According to the Rocket Force, DF-16G carries conventional warheads and has high accuracy, strong destructive power and requires only a short time for preparations.
The DF-21D land-based, anti-ship ballistic missile features a large coverage and good penetration and target-tracking capabilities. It is a milestone in the PLA's efforts to implant strategic capacity into its conventional ballistic missiles.
The DF-26, a new strategic deterrence weapon, is capable of conducting off-road launches of conventional and nuclear warheads in tough terrains. It can carry out rapid nuclear counterattack and medium- to long-range precision strikes using conventional warheads, according to the Rocket Force.