Xi inspects troops as China's military might on show
By Zhao Lei in Zhurihe, Inner Mongolia | chinadaily.com.cn | Updated: 2017-07-30 13:42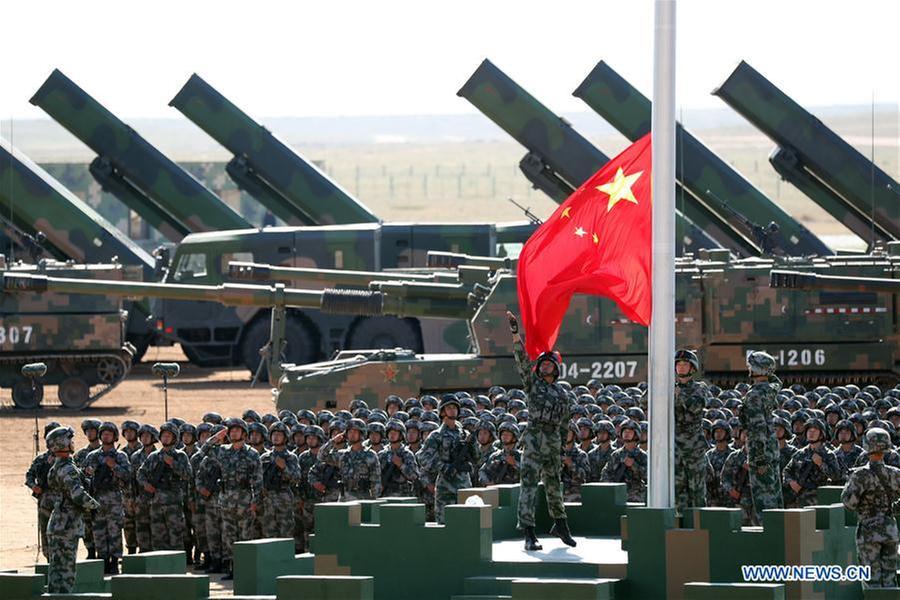 The flag raising ceremony during the military parade at Zhurihe training base in North China's Inner Mongolia autonomous region Sunday, July 30, 2017. [Photo/Xinhua]
President Xi Jinping urged the People's Liberation Army to spare no efforts to become a world-class military after inspecting troops in the Chinese military's first field parade in several decades.
Xi, who is also general secretary of the Communist Party of China Central Committee and chairman of the Central Military Commission, said the country was close to realizing the great rejuvenation of the Chinese nation and, therefore, a mighty military was much needed to safeguard the process.
He told PLA's top commanders and officers and soldiers who just staged a parade in front of him on Sunday morning to stick to the Party's leadership, to continue serving the people, to further improve their combat capability and to deepen the reform and boost innovation.
"I am convinced that our heroic armed forces are confident and capable of defeating enemies daring to provoke us, of safeguarding our sovereignty, security and development interests … and of making new contributions to the China Dream and world peace," he said.
The PLA carried out a field parade on Sunday morning at the Zhurihe Training Base in the Inner Mongolia autonomous region to mark its 90th anniversary that falls on Tuesday.
Hundreds of large weapons and equipment, many of them never shown to the public before, and 12,000 troops took part in the grand parade.
It's the first time the PLA have held a parade at an exercise field in nearly four decades.
In 1981, a parade was performed at a training base in North China and witnessed by the late Party leader Deng Xiaoping. Three parades have been staged at Tian'anmen Square in Beijing since then in 1999, 2009 and 2015.
Sunday's event was also the first parade specifically organized to celebrate a founding anniversary of the PLA.
It represents the PLA's determination to become a top military in the world.