A question of table manners
By Zhang Lei | CHINA DAILY | Updated: 2020-03-28 10:04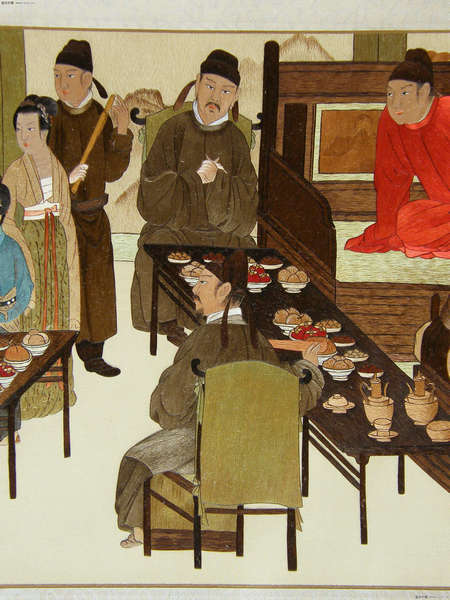 "Everyone sat on the floor, each with a small table before them in dynasties before the Song Dynasty (960-1279), and China's individual serving goes back earlier than the Qin Dynasty (221-226 BC)," says Wang Xiqing, of the Chinese Cooking Association.
Archaeologists have discovered from many pottery shards cooking tripods with hollow legs unearthed in Yin Ruins in Anyang, Henan province, and each tripod is only big enough for one person to prepare one meal. The utensil is for cooking porridge, and it can be inferred that at that time food was divided into portions for each person.
"Before the Qin Dynasty, people were used to sitting on the floor and setting out the feast," Wang says."Social hierarchy had a bearing on the way people could eat. The emperor could have five sets of food and noblemen two. The aristocracy paid great attention to the use of ding, that cooking vessel in the shape of a tripod. The number of ding indicated the identity and prerogative of the host and guests, the specifications of the feast, and the richness of the food. The higher your status, the more ding you used and the higher quality the meal you enjoyed."
There are also many historical anecdotes that attest to individual food serving. Using superior text that convey rich ideas, Records of the Grand Historian compiled by Sima Qian in the Western Han Dynasty (206 BC-AD 220), brings together some of the more colorful examples.