A question of table manners
By Zhang Lei | CHINA DAILY | Updated: 2020-03-28 10:04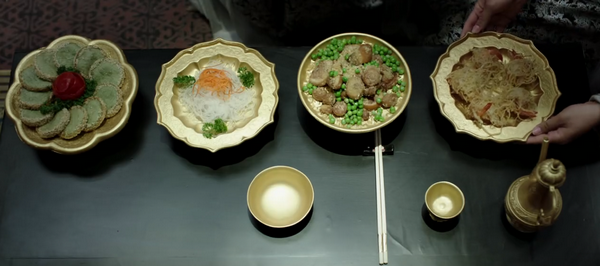 Wang uncovered related information in the masterpiece Han Xizai's Night Banquet by Gu Hongzhong, a Southern Tang painter.
One account tells of aristocrats reclining on beds or chaises lounges enjoying the performance of a young woman playing pipa, a plucked string instrument with a fretted fingerboard. A few small tables are nearby, and in front of each person are eight plates, in each of which identical delicacies have been served. A set of utensils, including spoons and chopsticks, lie alongside each plate.
Wang believes this shows that the restraints imposed by the dictates of separate dining still exerted some influence after communal dining emerged.
By the late Tang Dynasty eating communally had become almost de rigueur. However, even when people sat together the food was still served separately, and diners used their private utensils such as chopsticks, thus reducing the risk of germs being passed on.
"But it foreshadowed an inevitable change to communal dining,"Wang says.
High chairs and tables introduced in the late Tang Dynasty, a result of closer interaction among different nationalities, brought a gradual change in eating patterns, and it became increasingly common for everyone to eat around the table. In the middle and latter part of the Song Dynasty, the custom that most Chinese families now follow, sitting and eating together, with dishes shared, became established.