Letters that heal the heart
By Wang Qian | China Daily | Updated: 2021-06-09 09:00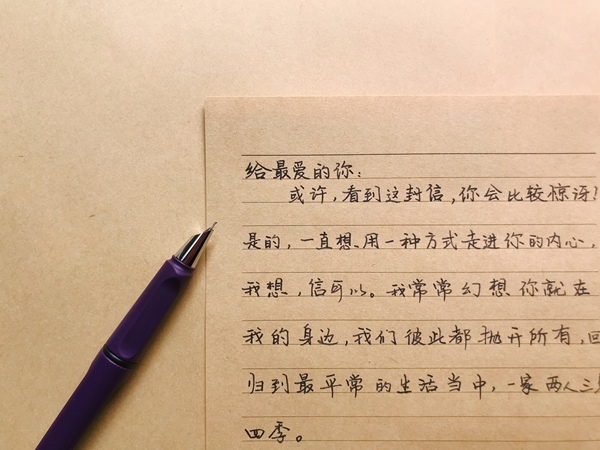 Power of the pen
Professional letter writers used to be common on the streets of China because of the low literacy rates before the 1980s. Usually well-educated, the letter writers were good at writing and helped people compose letters for business or to family or friends. Apart from writing letters, they also helped read letters to their clients. The number of professional letter writers has sharply decreased since the nationwide introduction of nine-year compulsory education in 1986.
Data from the State Post Bureau shows that the number of stamped letters decreased from 7.4 billion in 2010 to about 1.4 billion last year in China. With the popularity of smartphones and computers, letters have been replaced by modern communication mediums such as emails and social media apps.
Most people cannot remember the last time they took up a pen and paper to write a letter. To keep letter handwriting alive in the digital age, the Museum of Family Letters was established at the Renmin University of China in Beijing in 2016. It has collected more than 60,000 handwritten letters donated by people worldwide. These include letters written last year during the coronavirus outbreak.
Zhang Ding, the museum's deputy curator, told Beijing Daily that challenging times during the COVID-19 pandemic have placed pens in the hands of people again.
"Most of the letters collected reached their recipients through the internet due to temporary suspension of mail services caused by the pandemic-the internet provides a new way for sending traditional letters," Zhang says.
He says the value of handwritten letters is irreplaceable, as a lot of time is taken to craft each character, sentence and paragraph, and to properly organize the writer's thoughts.
As for Feng, even helping others to write letters makes her understand the emotions and care in letter writing.
She says she hopes that people can slow down and take time to write a letter in this fast-paced society.
"Imagine one of your friends walking into a letter-writing store, carefully selecting the paper and envelope, and asking the letter writer to put thoughts into words," Feng says. "When you get such a nicely packed letter with your nickname on the envelope, I believe you will smile seeing it."