Island of creativity
By Deng Zhangyu | China Daily | Updated: 2021-06-11 08:01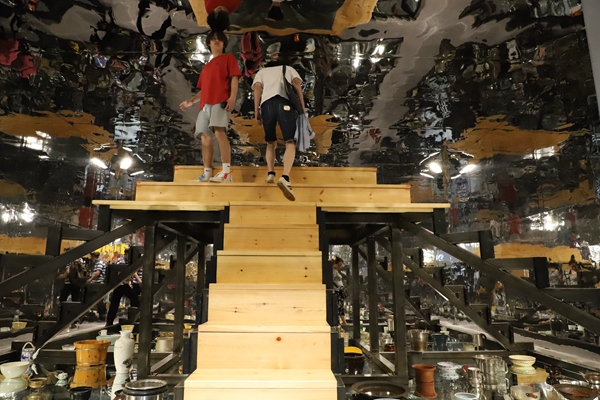 Visitors can experience different forms of art at the museum's eight pavilions, such as famed artist Zhang Xiaogang's installation The Drawer of Time, videos by Miao Xiaochun and Italian artist Federico Solmi projected in a 360-degree immersive projection hall, as well as French artist Celeste Boursier-Mougenot's installation, Mine Reality, comprising 56 giant stones.
Wang Chunchen, curator of the show, says it's not easy to gather so many large-scale works by established artists from across the globe in one show, especially since the pandemic.
"When we invited overseas artists to make customized pieces for our show, they were all excited that there was still a chance to present their work in China," adds Wang.
A highlight of the exhibition is a piece tailored for the show by renowned Mexican-born artist Gabriel Dawe, who is known for his installations of rainbows made with sewing thread. He has created Light Field, a rainbow installation to match the museum's circular exhibition space in Pavilion 5. To set up the work, 12 people worked for five days, painstakingly arranging more than 80,000 strips of colorful gauze.