Light entertainment beckons for night owls
By Xu Lin and Liu Kun | China Daily | Updated: 2021-07-20 07:30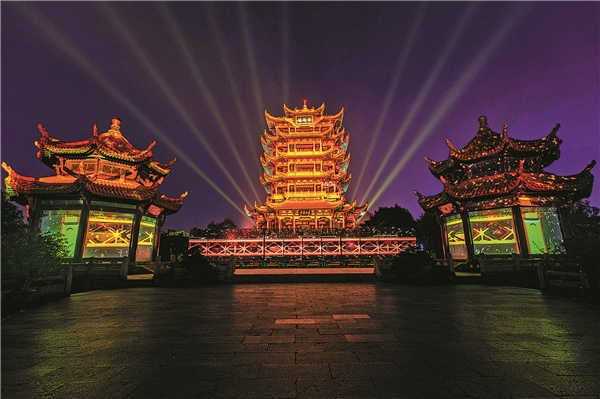 The short cruise takes them to local scenic areas and they can watch a light show along the banks of the river at the end of the trip, while enjoying the view of buildings old and new, they can also sample a delicious buffet on board.
"The boom in nighttime tourism has made the market more competitive, thus pushing scenic areas and destinations to put more effort into enhancing their offerings, innovation and service and enriching product content," says Liao Chengzhi, marketing director of Wuhan Liji Ferry Group, which operates the tour cruise.
Night tours at some scenic areas provide a different experience compared to that of a daytime visit.
At the Master-of-Nets Garden (Wangshiyuan) in Suzhou, Jiangsu province, classic arias of pingtan (storytelling with music and singing in the Suzhou dialect) and Kunqu Opera are performed at night for tourists. Some images and lyrics are projected onto buildings, to create an artistic atmosphere.
During a guided 50-minute tour, visitors will watch various performances in different yards that appeal to both refined and popular tastes, such as the Chinese stringed instruments of erhu and guzheng.
Portable lights emphasize traditional Chinese aesthetics in the architecture and landscape.
Zheng Fang, chief inspector of marketing, Haichang Ocean Park Holdings Ltd, says that it offers innovative nighttime tour products and has just upgraded them with Trip.com Group.
During a two-day tour package in Shanghai Haichang Ocean Park, tourists can learn about marine animals, such as sharks and mantas, via a guided tour, and observe penguins closely through glass while dining in a restaurant.