Virtually real
By Deng Zhangyu | China Daily | Updated: 2021-11-17 07:56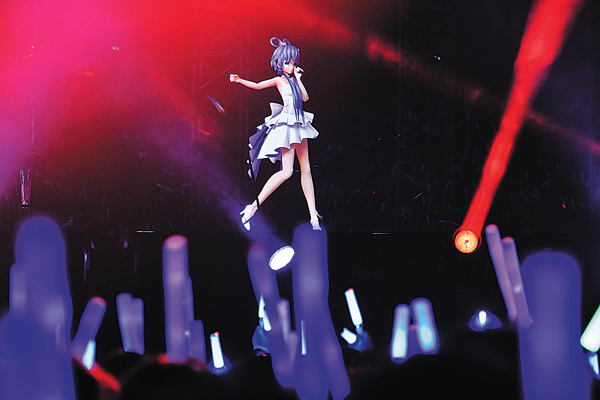 "It's not simply animation. The key difference between animated characters and virtual idols is the interaction with people," says Lu, adding that the band has received lots of invitations.
Damian and Millie have accounts on different social media platforms, such as Sina Weibo, lifestyle platform Xiaohongshu and Douyin. The accounts frequently post photos of the pair, express how they are "feeling" and interact with followers-just like real-life stars. Many people ask the same question under their posts: "Are you real humans?"
Unlike Liu Yexi and D.M that bear a close resemblance to actual humans, the majority of virtual idols are drawn and styled like Japanese anime figures.
Virtual girl group A-Soul, produced last year by Yuehua Entertainment and ByteDance, owner of TikTok, has five members, each with a different style in keeping with popular anime aesthetics. Each of the characters have millions of followers on their respective social media platforms. A video showing them singing and dancing can attract millions of viewers on Bilibili, a short video sharing platform especially popular with Generation Z.
Bilibili is one of the earliest platforms to invest in the virtual idol industry and, in 2019, it set up a section for virtual influencers.
The company says that there are 32,412 accounts which were created "by" virtual influencers on the platform to broadcast music, dance and game videos last year. Comments from users sent during livestreams involving these influencers reached 560 million in 2020, up 100 percent compared to 2019.
Since 2017, Bilibili has organized an annual concert of virtual idols and attracted many fans who love comics and anime. The peak number of people watching the live 2020 virtual idol concert online in December last year hit 10.8 million.
Original music by Luo Tianyi, a leading Chinese virtual singer created nine years ago, is often posted on Bilibili and the character is one of the platform's top virtual celebrities.