Royal clues unearthed in excavation
By Wang Ru | China Daily | Updated: 2022-01-11 08:36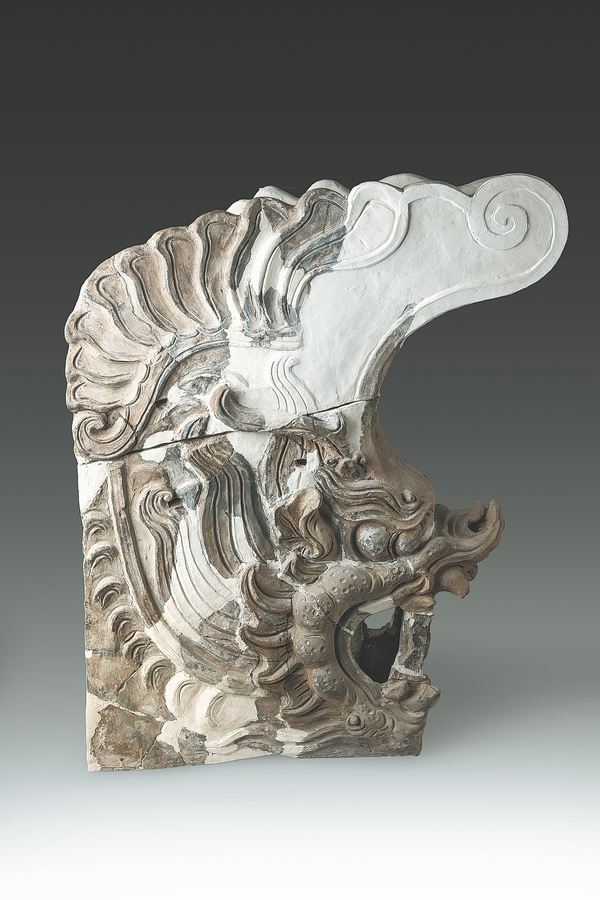 "The porcelain serves as an important reference for us to identify the types of porcelain used by the Jin imperial family. And we found they used white ceramics from Ding Kiln and celadons, which are similar to those of the Ru Kiln celadons found at the Qingliang Temple in Henan province," says Huang.
A chiwen, or imperial roof decoration, on exhibition is in the shape of a dragon with glaring eyes and an open mouth. Its size is in accordance with the record of Yingzao Fashi, a technical treatise on architecture written by ancient Chinese architect Li Jie in the Song Dynasty (960-1279).
"We had already known that the official architecture of the Jin era inherited many features of the Song period, but what are the features? The Taizicheng site gives us some answers. Its architectural layout allows us to gain new knowledge on the imperial architecture of the Jin era," says Huang.
The nabo custom originated in the Liao Dynasty, referring to the emperor's temporary residence in the Khitan language. It points to the tradition that the imperial family kept their ancestors' nomadic habit of moving around according to the seasonal climate. This tradition was inherited by later dynasties that were established by nomadic groups, like the Jin and Yuan periods, and even extended to the Qing Dynasty (1644-1911), which had some similar customs.
During the nabo period, there were hunting exercises, ritual activities and other entertainment. Emperors met with local officials and dealt with political and military affairs.
"Nabo had strategic importance for the political, economic and military aspects of the country at that time. Many major policies and decisions were actually formed during the process," says Huang.