Developing villages
By Yang Feiyue/Zhu Youfang | China Daily | Updated: 2022-08-05 07:56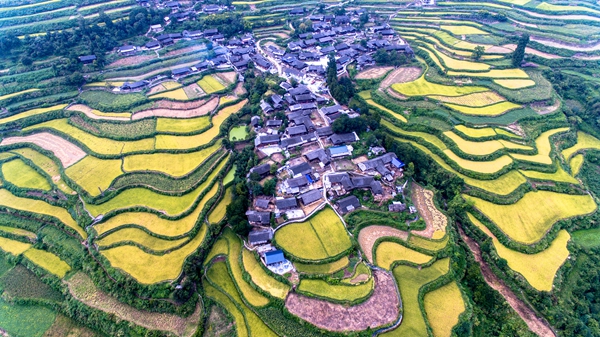 "The bridges, running water and houses, just like those in a drama from the Yuan Dynasty (1271-1368)," Tan says. "They are all a picture."
Some ancient architecture in the south and east of Hunan features horse-head walls, and a row of rooms anchored by a central space, while those in the west are mostly wood structures with ethnic Tujia, Miao and Dong elements.
"They all constitute the diversity of architecture in Hunan; the features differ from other provinces," Tan says.
As he realized that rapid urbanization was eating into the space of many rural structures, an urge rose in him to keep a record of the ancient villages, especially on the brink of change incurred by modern development.
Tan attributed the urge to his worship of and nostalgia toward the soil.
"I was born a rural child, and I have special feelings for those villages and old houses," Tan says.
"My first memory came from the countryside," he adds.
In 2006, Tan decided to explore, find and record such villages, through his lens, in the depths of the mountains.
However, he was already off to a rough start. Those villages mostly sit in the middle of nowhere and are far away from the city and Tan didn't have a car, instead having to rely on buses and motorcycles.