Developing villages
By Yang Feiyue/Zhu Youfang | China Daily | Updated: 2022-08-05 07:56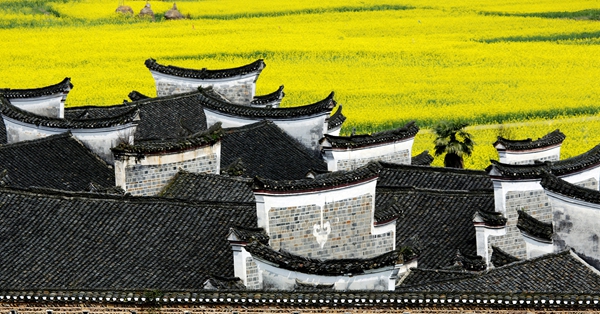 He would often set up a tent in the woods, or borrow straw mats from local villagers to sleep on in their ancestral halls, and most meals consisted of instant noodles.
Yet, all the hardships melted away when he would feast his eyes on the beauty of the ancient villages and their buildings.
"They have a poetic aesthetic and are a concrete image of Hunan culture," Tan says.
"Photography can accentuate this, and retain the beauty of Chinese culture that has been inherited for thousands of years."
During his journey, Tan also did his part to call attention to the preservation of rural buildings.
In 2006, Tan zoomed in on Jinshou Hall, an administrative site of the Communist Party of China used during the early 1930s, in Chudong village of Liuyang city, east of Hunan.
He spent a week in the village, recording rural life while raising awareness and appreciation of the hall, which was the biggest and best preserved traditional residence of its kind in the area.
It is a courtyard-style cluster of folk architecture that was built in 1897 and covers an area of more than 5,000 square meters.
Tan is relieved that the hall has been well-preserved over the years and that, since 2008, when the third national cultural relic survey took place, its artistic value and historical significance have been recognized.
He has made annual trips to Chudong village over the years to experience its positive changes.
"The village environment is getting better, and local life is improving," he says.
During his 2010 trip to Ningyuan county, Yongzhou city, in the south of Hunan, Tan wasted no time in pointing out a big crack in the wall of an old building to local authorities.
"I told them it would fall to pieces if restoration work was not carried out, which would be a great pity," Tan says.