Throwing themselves into their acting work
By Cheng Yuezhu | China Daily | Updated: 2022-08-17 07:47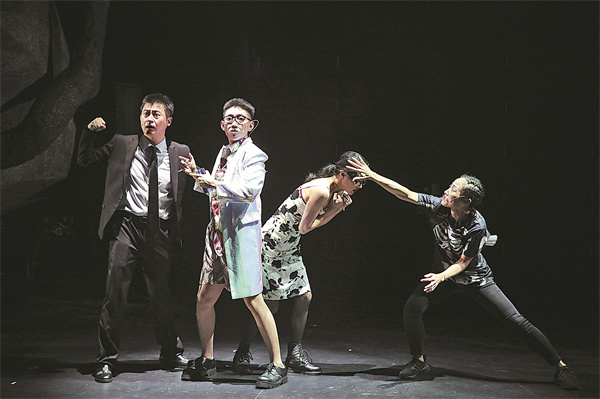 Luo Fuxing says he is probably one of the most unlikely people to feature in a play associated with the classic Chinese novel The Water Margin, since he has never been to the theater, or even read the original book.
He was one of the trendsetters on the Chinese internet in the 2000s, and has since labeled himself "the godfather of shamate". The term was coined from his own transliteration of "smart", a subculture phenomenon known best by the striking appearances of its followers, adopted mainly by young factory workers as a way of self-expression.
Director Zhuang Yi, however, saw similarities between him and the character Shi Jin from the book, and cast him as a protagonist of a theatrical adaptation of the novel, All Men Are Brothers, which recently premiered in Beijing at the Pioneer Theater of the National Theater of China.
On the stage, Luo took up the role of Shi, but also told his own life stories, proudly bringing the iconic elements of shamate, including the colorful spiky hairdos and some distinctive dance moves.
Just like Shi who, in the story, refuses to take over the family tradition of farming to pursue his passion for martial arts, Luo was dissatisfied with working on the assembly line and decided to broadcast his own identity with an extravagant makeover.