Throwing themselves into their acting work
By Cheng Yuezhu | China Daily | Updated: 2022-08-17 07:47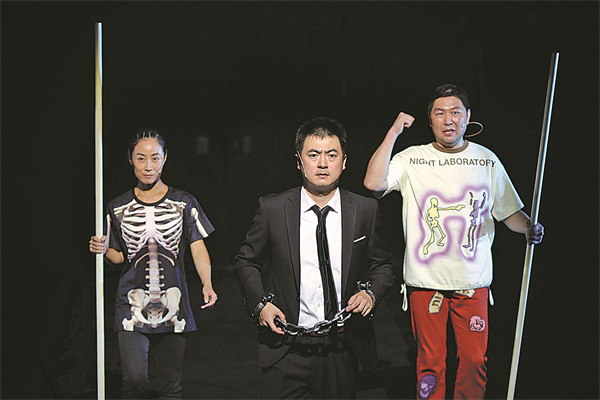 With this unconventional format, Zhuang wants the audience to feel that the lives of these ancient characters are not much different from the lives of their own, rather than think that they are just watching a classic literary work being performed onstage for the umpteenth time.
"Instead of a purely fictional play, I wanted to present authenticity. So I tried something interesting, with the actors jumping in and out between the characters they are playing and themselves, acting out historical stories while telling those of their own," Zhuang says.
This play marked the premiere of the National Theater of China's creative-support program for young directors, where 12 young directors are invited to bring 12 plays adapted from classic pieces of Chinese literature.
Zhuang says that he had always been interested in making a stage rendition of The Water Margin: "This novel is outside the orthodox, the commonly accepted aesthetics. It embodies a sort of rank-and-file, even marginalized vitality, growing like wild grass, not restricted by any convention."
As the book itself is an epic novel with its iconic "108 heroes", Zhuang chose to delve in from the universal theme of friendship, with implications in both ancient and contemporary times.
The title All Men Are Brothers comes from American writer Pearl S. Buck's translation of the novel, which to Zhuang best manifests the core message he would like to convey.
He then chose the character Lu Zhishen, whose friendship with Shi Jin and Lin Chong, to him, is the most genuine and precious in the book. The stories he chose come from the first 10 chapters of the book, with focus on the early life experiences of the individual characters.
The character of Lin Chong, a disheartened martial arts coach of the imperial army, is performed by Luo Xi, an actor from Beijing People's Art Theater, who also tells of his own frustration and disappointment, and Lu Zhishen, a fervent defender of justice, is played by Pasai from comedy production company Mahua FunAge.