A rare sight to behold
By Zhang Kun | China Daily | Updated: 2022-12-23 12:08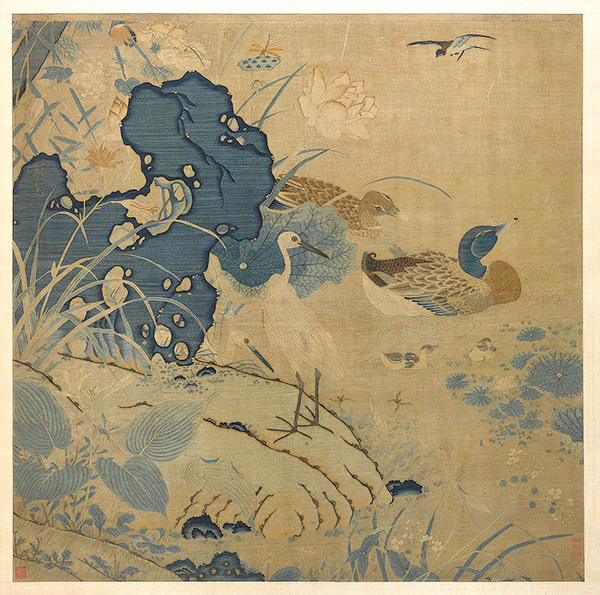 It was Emperor Huizong (reigned 1100-26), an important artist himself, who encouraged and promoted the development of kesi. Under his influence, kesi advanced rapidly from a textile handicraft to a work of artistic excellence. It was also in this context that people like Zhu were able to develop their talent.
Zhu incorporated the art of imperial court painting into her craft by taking delicate threads of blended colors as palettes and employing the method of "long-and-short-thread inlay" as ink-wash brushes, thus creating an exquisite effect of color blending.
A fine piece like Ducklings on a Lotus Pond would require at least eight years to make and involve many other artisans handling the logistics, such as the rearing of silkworms, the making of silk, and the dyeing of threads, Yu says.
However, judging from the upper part of the piece, where a single swallow and dragonfly look to be inconsistent with all the other animals that appear in pairs — a symbol of auspiciousness — Yu believes the composition was incomplete.
Also, the artwork was never part of the imperial collection, but kept as a hidden treasure in civilian society.
In the early 20th century, the artwork was owned by Pang, an entrepreneur and important connoisseur and collector of Chinese art from Nanxun, an ancient town in Zhejiang province.
In 1952, Pang Weijin and other descendants of Pang Yuanji donated it and five other pieces of kesi and calligraphy artworks from the Ming (1368-1644) and Qing (1644-1911) dynasties to the Shanghai Museum. A handwritten note attached to these works reads: "Such priceless treasures in the world ought not to belong to private collectors like us. Rather, they should be donated to our nation and admired by our people, immediately."
To protect the fragile artwork, the Shanghai Museum strictly controls the lighting, temperature and humidity in the exhibition hall, and has capped the number of visitors at 50 every 20 minutes. Visitors have to make an appointment for the exhibition through the museum's WeChat platform.
If you go
Ducklings on a Lotus Pond: A Kesi Tapestry Enshrined in the Shanghai Museum
Dec 17-Jan 1, 2023.
No 3 Exhibition Hall, Shanghai Museum, 201 Renmin Avenue, Huangpu district, Shanghai.
021-6372-3500.