Huizhou heritage comes to life
By Wang Ru | China Daily | Updated: 2022-12-29 09:57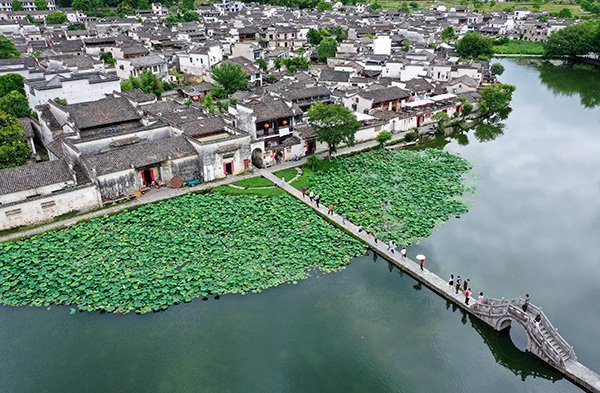 Dwellings with stories
Huizhou architecture, with its long tradition and great diversity, occupies an important place in Chinese architectural landscape, says Zhang Wangnan, director of the China Huizhou Culture Museum in Huangshan.
Huizhou dwellings tend to be built to conform to the natural terrain, since Huizhou is a mountainous area with few flat areas of land, according to Zhang.
Moreover, daylight is valued in Huizhou houses, which is reflected in the building of open interior courtyards, which allows sunshine to enter the rooms.
"Huizhou merchants also believed that water symbolizes wealth. When it rains, water falling on the pitched roof soon flows to the courtyard. It stands for retaining windfall profits," says Zhang.
Huizhou is famous for its stone, wood and brick carvings, which are widely used in the decoration of local dwellings. "People carve auspicious patterns and historical stories on the beams, windows and pillars of their houses. In this way, they integrate their aesthetic values and emotions into the buildings, making them more beautiful and educating their children through the meanings contained in the patterns," says Zhang.
Features of Huizhou dwellings display the characteristics of local people. "If you look at the outside of a Huizhou dwelling, it seems simple, enclosed by walls, but the insides are open and broad, with complicated decorations. It is just like Huizhou people, who are often reserved toward strangers but friendly when you get to know them," says Zhang.
Zhang says that Ming dwellings differ from those of the Qing Dynasty in many aspects, for example, having fewer horse-head gables and less complicated carvings. Remains of Ming dwellings can be seen in Chengkan village, Huangshan; those in Xidi and Hongcun are good examples of the Qing style.