Recovering a historical accessory
By Wang Qian | China Daily | Updated: 2023-03-18 09:21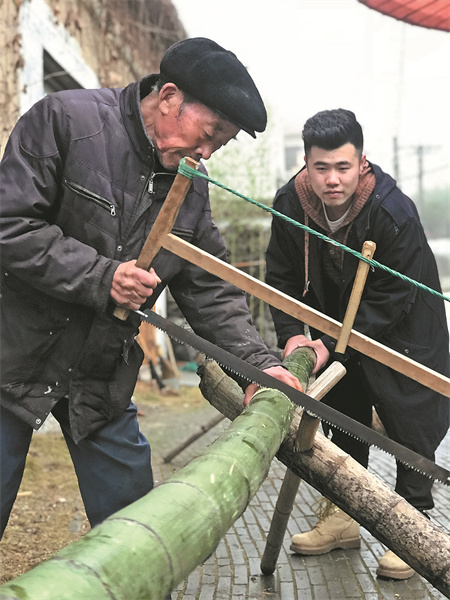 "For me, inheriting the paper umbrella making process is important, and I am very happy that my grandson is willing to take it on," Liu Youquan says.
Knowing how difficult it was to revive the craft, Liu Youquan gave his grandson a sum of 60,000 yuan to support him. At the former two-story residence of his grandfather, Liu Weixue started to learn umbrella making from scratch. In the first year, Liu Weixue had just one goal — make the umbrella and bring it to that year's Maison et Objet.
"Behind a handmade umbrella, there is a complicated process, which needs patience and care," Liu Weixue says, adding that every detail matters.
The bamboo needs to be soaked in water for 30 days and dried to prevent mold and damage by worms. Usually, an umbrella needs 36 ribs and 36 stretchers, which should come from the same bamboo culm or stem, according to Liu Weixue.
After assembling all of the components, thread is intertwined through the ribs and stretchers, carefully measured for the umbrella to open properly. Then comes attaching the canopy, which is made of small patches of glued sangpi paper. After folding the paper canopy by hand, artisans paint the canopy with a Chinese brush. The last step is to brush wax oil to the canopy twice to waterproof it.
Fang Jinquan, an umbrella maker at the studio who started learning the craft at the age of 12, says it takes at least three years to become qualified.